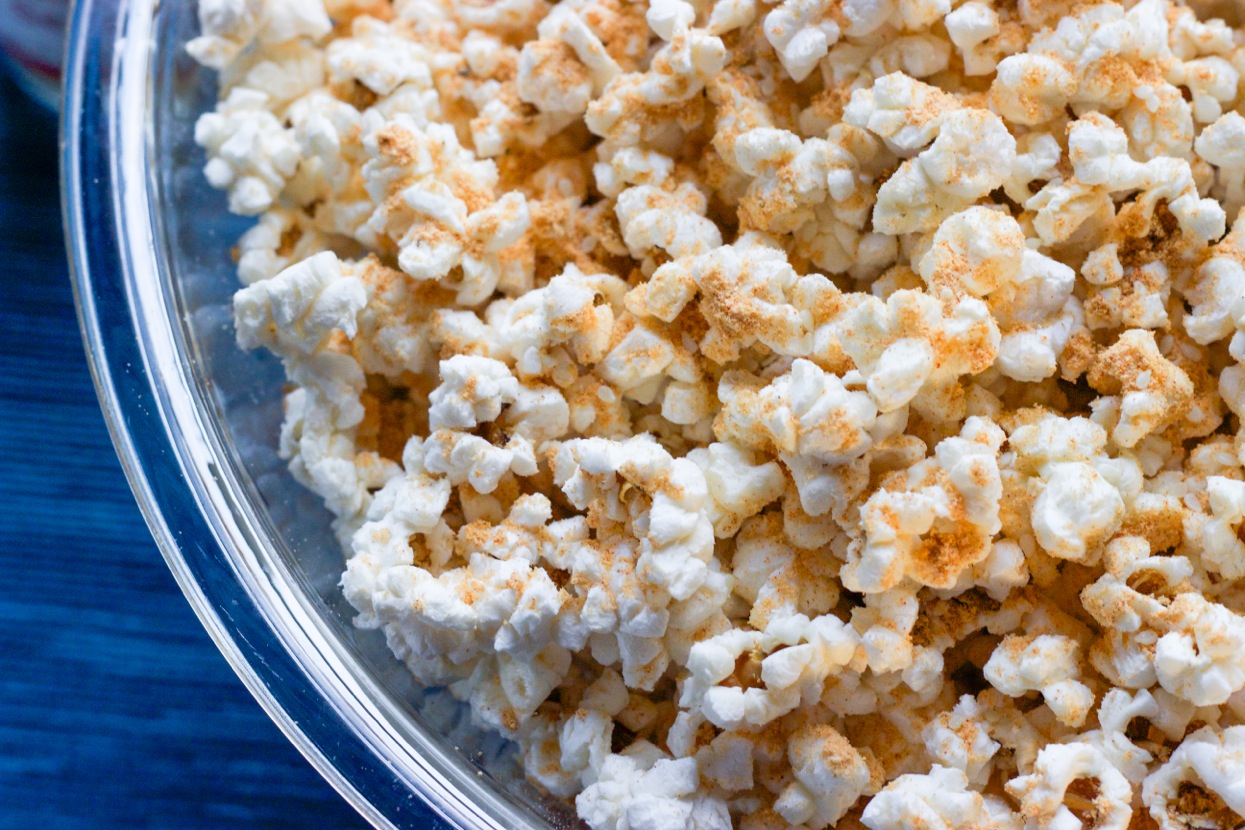 We aren't going to tell you this will completely mimic the all encompassing and all-powerful burger, but serve a big bowl of this cheeseburger-inspired popcorn to your guests and you'll be the coolest kid on the block. Trust us. Cooking the kernels in rendered beef and bacon fat will give your popcorn some meaty background notes, and then it's punched up with all the classic burger fixins, in powdered form of course.
Note: If you can't find all the spices, just use as many as you can. It's your burger, dress it however you'd like!
Ingredients
1/2

cup

popcorn kernels

2

slices

bacon, diced

2

tablespoons

beef trimmings, diced, or substitute 1 tablespoon rendered beef fat

1

teaspoon

mustard powder

1

teaspoon

tomato powder

1

teaspoon

worcestershire powder

1

teaspoon

onion powder

1

teaspoon

sesame seeds

1/2

teaspoon

smoked salt

1

teaspoon

kosher salt, or to taste

1/2

teaspoon

freshly cracked black pepper

1/4

cup

cheddar cheese powder (or go rogue and use a cheese packet from a box of mac and cheese, just don't forget the next time you want to make mac and cheese)
Directions
In a medium skillet over medium-low heat, add the diced bacon and beef trimmings.
Cook until the fat has rendered and the bacon and beef bits are crispy, 8-12 minutes.
Strain through a fine mesh colander into a bowl and reserve the fat.
In a clean, small skillet over medium-low heat, toast the mustard powder, tomato powder, worcestershire powder, onion powder and sesame seeds until aromatic, 3-5 minutes. Set aside.
In a popcorn maker or using a very large saucepan, heat 2 tablespoons of the reserved fat (add canola oil or butter if you have less than 2 tablespoons reserved) over medium heat.
Add the kernels and quickly close the lid.
Cook until the kernels have slowly stopped popping, and wait another minutes to make sure they have all popped.
Add to a large bowl, season with the toasted spices and add the salts, black pepper and cheese.
Adjust seasoning with salt if needed. Enjoy while warm.
Find more popcorn on Food Republic: