Holy Snack! It's A Black Pudding Scotch Eggs Recipe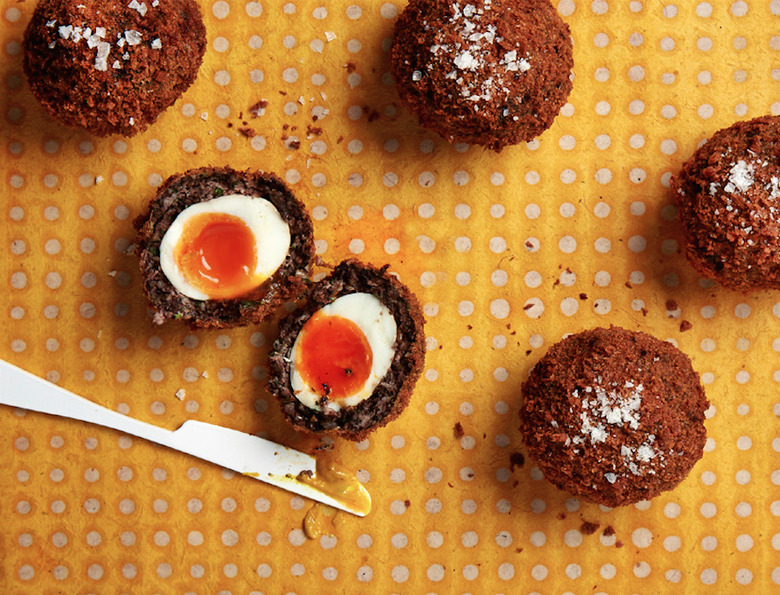 We may receive a commission on purchases made from links.
There has never been a better time to be (or eat) a perfectly cooked egg. They're so trendy that all you have to do for guaranteed Instagram likes is break a yolk and step away from the magic. The silky texture, versatile nature, world of flavor and level of "doneness" make for a superb blank slate popping up on menus from the humble to the ultra-posh! Enter: Posh Eggs, a collection of delightful spins on this simple, perfect canvas. Black pudding Scotch eggs will ruin you for all other Scotch eggs. Kidding, nothing could do that. 
Here black pudding and egg are teamed up to make the most perfect match. Eat them warm with spicy mustard.
Holy Snack! It's A Black Pudding Scotch Eggs Recipe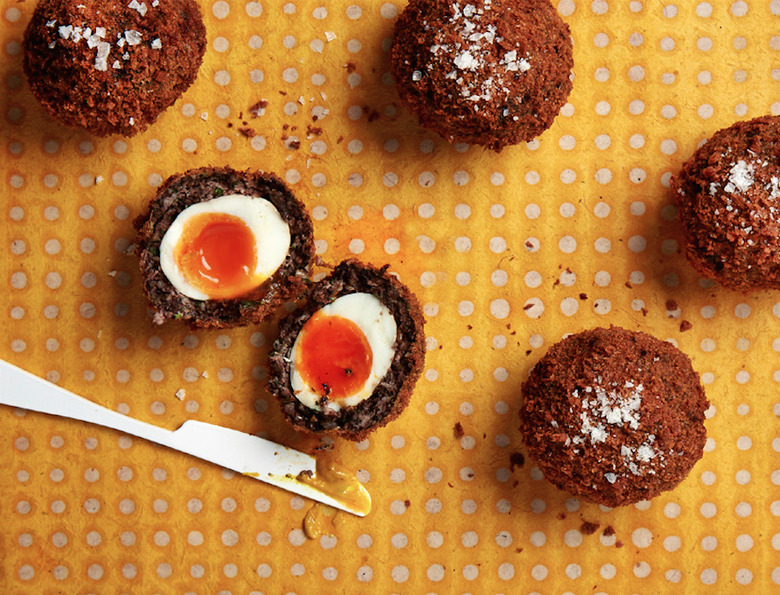 Ingredients
8 eggs
12 1/2 ounces pork mince
7 ounces black pudding
4 tablespoons chopped flat-leaf parsley, sage and thyme leaves
1 plump garlic clove
2 ounces plain (all-purpose) flour
3 ounces panko or fresh breadcrumbs
vegetable oil
English mustard
sea salt and freshly ground black pepper
Directions
Bring a medium pan of water to the boil. Carefully lower in six of the eggs and simmer for 6 minutes. Remove with a slotted spoon, plunge into a bowl of iced water to cool quickly, then carefully peel.
In a bowl, with your hands, mix the mince, black pudding, parsley and garlic. Season well with a pinch of salt and plenty of pepper then divide into six portions (each about ½-ounce). Flatten each portion into a 5-inch circle. Working with one portion and one egg at a time, place the egg in the center of the black pudding mixture. Use your hands to mold the mixture up and around to encase the egg completely. Place on a plate lined with kitchen paper and chill for 20 minutes.
In a shallow bowl, lightly beat the remaining two eggs. Put the seasoned flour and breadcrumbs in two separate shallow bowls. Dust each encased egg first in the flour, then in the egg and finally the breadcrumbs. Set aside.
Heat the oil in a large, deep-sided pan to 350°F on a thermometer (or drop in a cube of bread – it will turn golden in 60 seconds when the oil is ready). Deep-fry two eggs at a time for eight minutes, until crisp and golden. Remove with a slotted spoon and drain on kitchen paper.
Sprinkle with sea salt and serve warm or cold with English mustard.