Holy Grail Status: Perfect Paleo Pie Crust Recipe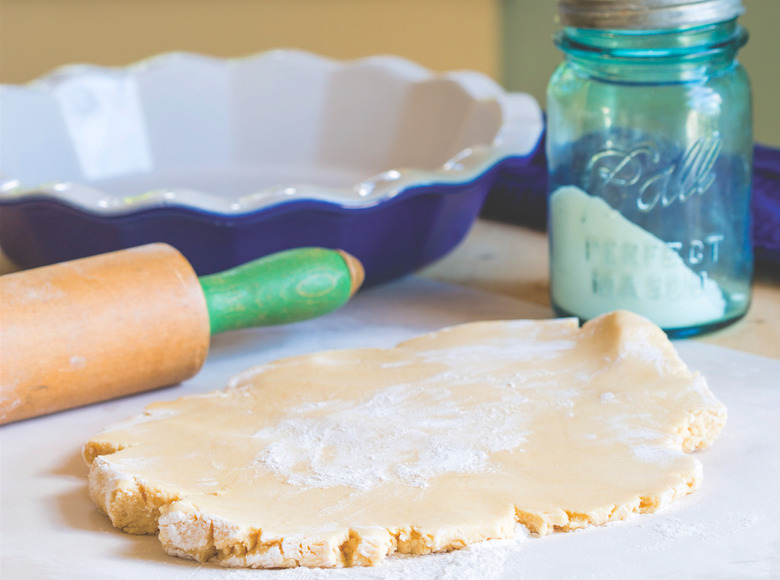 The cavepeople wish they had this amazing recipe. (Photo: Lea Valle.
We may receive a commission on purchases made from links.
It can be done! All your favorite desserts in paleo-friendly format. With recipes that are all gluten-free but full of flavor, paleo blogger Lea Valle takes the cake when it comes to sweet treats. Or in this case, the greatest paleo pie crust ever created. 
Grain-free pie-crust dough can be harder to work with than standard dough because it lacks the gluten that provides the elasticity needed to roll out and transfer to a pie dish. I find the combination of flours in this recipe, along with very cold fat and one egg, will yield a dough that is fairly easy to roll out and assemble into a delicious and flaky pie crust.
Holy Grail Status: Perfect Paleo Pie Crust Recipe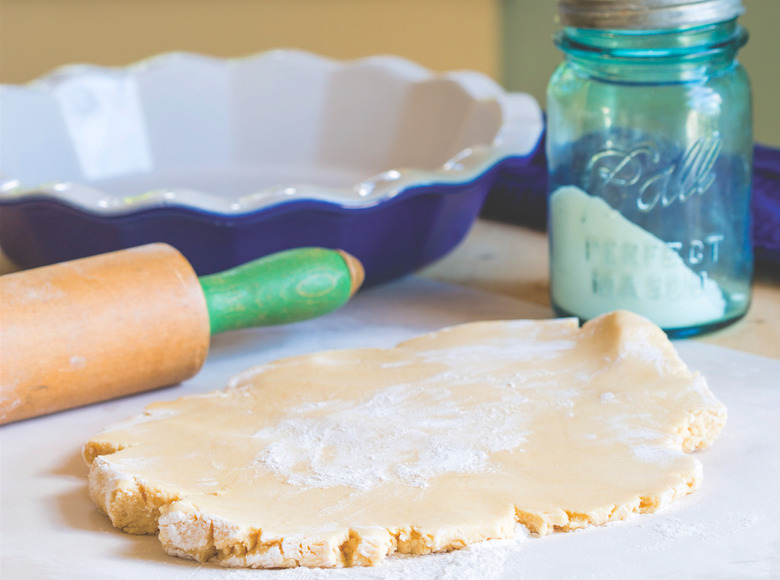 Ingredients
1 cup almond flour
1/2 cup coconut flour
1/2 cup arrowroot or tapioca flour
1/2 teaspoon finely ground sea salt
1/2 cup cold butter
1 egg
1 egg white plus 1 teaspoon water to make egg wash
Directions
Weigh and sift together the almond flour, coconut flour, tapioca flour and salt until combined.
Using a food processor or pastry cutter, cut the cold butter, palm shortening or lard into the flour mixture until the size of small peas.
Add the egg and pulse just until a dough begins to form.
Form the dough into a ball, flatten into a disk, cover with plastic wrap and refrigerate for 20 minutes.
Transfer the dough to a work surface covered with parchment paper that has been lightly floured with tapioca.
Pat the dough into a ball and flatten it into a disk.
Lightly dust the top of the disk with tapioca flour and use another sheet of parchment paper to cover the dough as you roll it out into a round at least 12 inches in diameter and about 1/8 inch thick. Continue sprinkling tapioca to ensure the dough doesn't stick to the paper.
Carefully transfer the rolled-out dough to your chosen pan, using your fingers to repair any cracks.
Make an egg wash by whisking the egg white with a teaspoon of water.
Brush the edges of dough with the egg wash. You can also use the egg wash to help adhere any decorative cutouts to the edges of the pie dough.
To partially or completely bake unfilled pastry, preheat the oven to 375 to 400°F.
Bake for 15 to 18 minutes (10 to 12 minutes for partially baked shell).
Let cool completely on a wire rack before filling.
Double the recipe, divide the dough into two equal balls and pat each half into a round, flat disk.
Roll out one disk into a 12-inch round as directed and line the pie pan or dish.
Combine any remaining scraps of dough with the second disk.
Roll out the second dough disk into a round at least 12 inches in diameter and about 1/8-inch thick and refrigerate until ready to use.
Use any remaining dough to create decorative cutouts.
Raspberry Pavlova Recipe
Chocolate Basmati Rice Soufflé
Party Grub: Homemade Peanut Butter Cups With Bourbon