When I go to California, there are two things that I must consume: tacos and In-N-Out. It's easy to make great tacos at home, but not so much the In-N-Out. But I want In-N-Out more often than I visit the Golden State, so I figured out how to approximate it at home. That's what we're doing here today. But I can't be eating burgers all the time. (I have to at least pretend to be healthy sometimes.) So I started making In-N-Out grilled cheese (which you can totally order, by the way, at any In-N-Out), and by my logic that means I can eat as many as I want! And let me tell you, you will be wanting to eat these on the regs, for sure.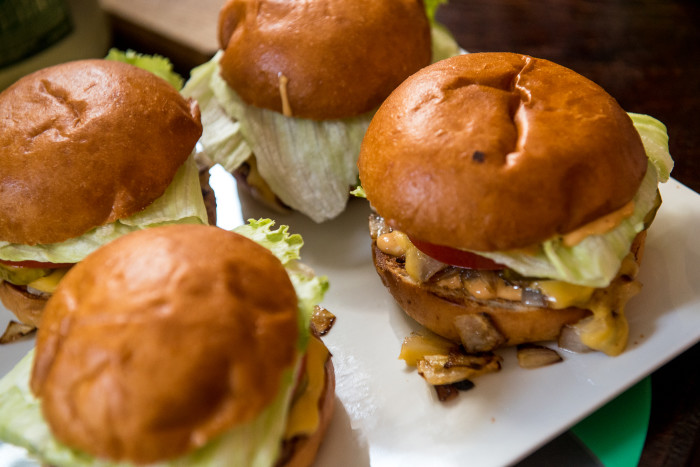 We're going animal-style with these, obviously, so the key is in the onions. They're not caramelized; they're grilled. What does that mean? They're not going to cook as long, and that's about it. Make this at home, and impress your friends who don't live in California anymore but talk about their love of In-N-Out more than you'd care to hear.
OH! I almost forgot. If you're thinking, "This is dumb, I want a real burger," then by all means add some meat to this bad boy! Insider tip: The patties at In-N-Out run about three ounces precooked.
Ingredients
4

burger buns

4

slices

American cheese

1

large sweet onion

1

large ripe beefsteak tomato

1/2

head

Iceberg lettuce

At least 4

pickle slices per sandwich

2

tablespoons

butter

Secret sauce (link in steps)
Directions
For the grilled cheeses
Chop the onions into a medium-small dice.

Pull apart lettuce into individual leaves; put in fridge.

Slice tomato; put in fridge.

Heat a griddle on medium heat, then add butter and onions.

Cook onions until browning around the edges and turning translucent.

While onions are cooking, toast buns on a griddle or in a separate pan with a dab of butter on each side.

Once the buns are done, pull off and spread with special sauce.

Form the onions into squares using a spatula and top with cheese as they finish.

Once cheese starts to melt, scoop up the cheese and onions, and place right onto your buns. The cheese will continue melting.

Build sandwich however you like with the tomatoes, pickles, and lettuce (and extra secret sauce never hurt anyone).