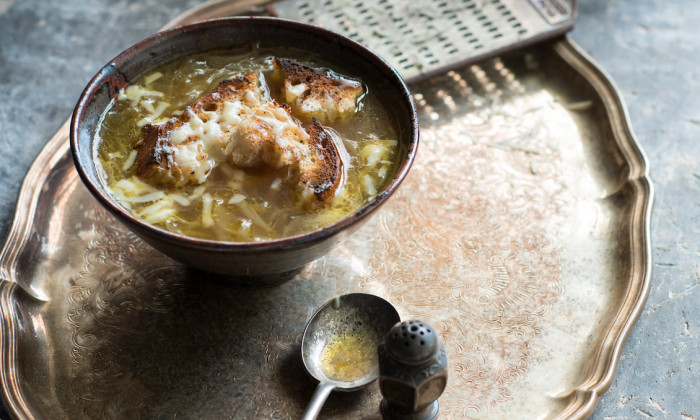 The dishes of France have influenced Vietnamese cuisine in a delicious way. Enter: Vietnamese-Australian chef and TV host Luke Nguyen, whose latest book explores the relationship between these two food cultures and documents the best of the best. Considering those parameters, French onion pho sounds just exactly right. 
Here I have taken two of the best-loved classic soups of France and Vietnam and combined them. This is not fusion cooking — history and culture made it happen.
Ingredients
1

tablespoon

vegetable oil

5

large brown onions, thinly sliced

1

cup

white wine

2

slices

sourdough bread, toasted and torn into large bits

3 1/2

ounces

Emmental cheese, grated
Pho broth
6

beef shin bone pieces

3

cinnamon sticks

2

star anise

2

cloves

2-inch knob of

fresh ginger, cut in half

1

large onion, in its skin, cut in half

1/4

cup

sugar

8

teaspoons

rock salt

5

tablespoons

fish sauce
Directions
For the soup
Start by making the broth. Put the shin bones in a large saucepan and cover with 16 cups cold water. Wrap the cinnamon, star anise and cloves in a piece of muslin (cheesecloth), add to the pan and bring the water to a boil over high heat. As the water comes to a boil, constantly skim the impurities from the surface, then reduce the heat to a simmer and cook for 1 hour, continuing to skim regularly.

Heat a chargrill pan to medium. Chargrill the ginger and onion for about 8 minutes, or until nicely browned. Add the chargrilled ginger and onion to the broth, along with the sugar, rock salt and fish sauce. Cover and cook at a very low simmer for a further 3 hours. Remove the muslin bag and allow the stock to cool. Strain through a muslin cloth and set aside. Heat the vegetable oil in a large saucepan over medium heat. Add the onion and sauté for 10 minutes. Reduce the heat to low and cook the onion for a further 20 minutes, stirring every 5 minutes or so, until the onion is golden.

Pour in the wine and 8 cups of the pho broth. (Any leftover broth will keep in an airtight container in the fridge for 2 days, or in the freezer for 1 month.) Season with sea salt and freshly ground black pepper. Bring to a boil, then reduce the heat and simmer for 45 minutes, or until the onion is tender.

Heat your grill (broiler) to high. Take four heatproof serving bowls and fill each one two-thirds full of the soup. Divide the toasted sourdough bits among the bowls, then sprinkle the cheese over the bread. Place the bowls under the hot grill for 2-3 minutes, or until the cheese has melted nicely and you have a nice crust. Serve immediately.