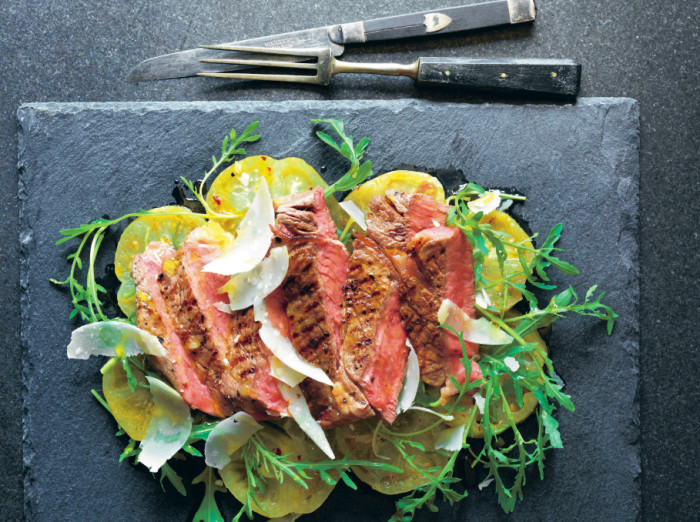 We love a great rare steak in any application. Maria Elia's new cookbook, Full of Flavor, contains a particularly good one — her version of tagliata. This Tuscan steak dish makes the French wish they'd invented it.
This dish brings back fond memories of my time spent working in Tuscany. Tagliata literally means "to slice." In Tuscany, they usually make this with sirloin or tenderloin; personally, I think rib eye works just as well.
Ingredients
14

ounces

green tomatoes (about 2 large), cores removed

3

tablespoons

olive oil

2

garlic cloves, finely chopped

sea salt

3

teaspoons

chopped oregano leaves

pinch of

crushed red pepper flakes

2-4

tablespoons

Demerara Sugar, to taste

1 1/2

teaspoons

Dijon mustard

1/4

cup

white wine or cider vinegar
Steaks
2

rib-eye steaks, about 10 ounces each and 3/4-inch thick

dash of

olive oil

sea salt and black pepper

leaves of

1 sprig of rosemary, finely chopped

2

handfuls of

arugula

shaved Parmesan (optional)
Directions
For the tomatoes:
Slice the tomatoes 1/2-inch thick. Gently heat the olive oil in a large frying pan, remove from heat, add the garlic and allow to warm through. Return the pan to the heat and add the tomatoes. Season with sea salt and cook over low heat for 10 minutes.
Add the remaining ingredients and simmer for another 10–15 minutes, or until the tomatoes have softened but still hold their shape. They should be sweet, but slightly sour. You may need to do this in batches depending on how large your frying pan is.
For the steaks
Drizzle the steaks with olive oil and mix together some salt, pepper and the rosemary and rub over the meat. Preheat a ridged grill pan and briskly sear the steaks on either side for 2–3 minutes for a medium-rare result. Set aside to rest before slicing.
To serve, place the tomatoes on either individual plates or a large serving dish. Toss the arugula with the olive oil and place on top of the tomatoes. Slice the steak diagonally into 3/4-inch pieces and loosely arrange over the arugula. Serve immediately, with shaved Parmesan, if desired.
More steak recipes on Food Republic: