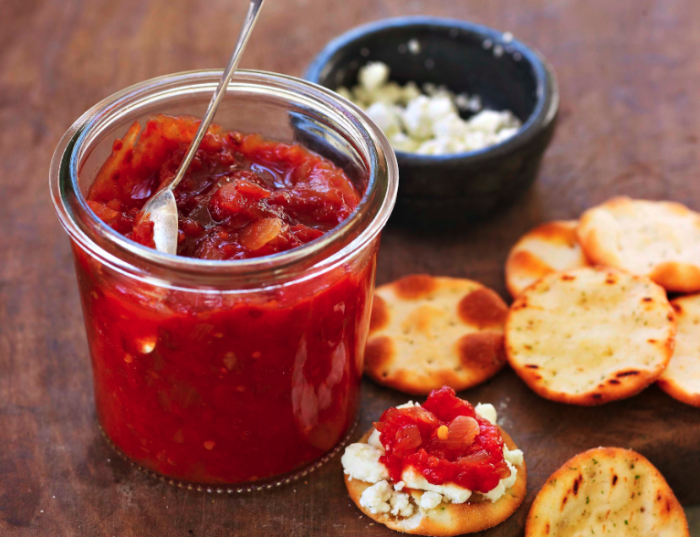 Nobody knows jams and preserves and chutneys quite like Southerners do, which is why we were so happy to get our hands on Southern Living magazine's new cookbook, Little Jars, Big Flavors. This little book has over a hundred big recipes for preserving all of spring and summer's sweet and savory bounty, plus ideas on how to serve them. This heirloom tomato chutney is the perfect condiment for grilled meat or fish, or simply spread on a cracker.
Ingredients
4

pounds

red heirloom tomatoes

1

large onion, cut into eighths

1

cup

sugar

2/3

cup

white vinegar (5% acidity)

3/4

teaspoon

dried crushed red pepper

3/4

teaspoon

ground allspice

1/2

teaspoon

salt
Directions
Cut a large "X" in bottom of each tomato. Working in batches, place tomatoes in a wire basket and lower into a large pot of boiling water.
Blanch 30 to 60 seconds or until skins start to split. Dip immediately into ice water; drain.
Working over a bowl to collect juices, remove skins and cut out cores; quarter tomatoes and add to bowl.
While jars are boiling, pulse onion in a food processor in batches until chopped to measure 2 cups. Place onion in a 4-quart stainless steel saucepan.
Process tomato quarters and any accumulated juices in food processor in 2 batches just until chopped. Add chopped tomato and juices to onion. Add sugar and remaining ingredients. Bring to a boil over medium-high heat. Cook, uncovered, 1 hour and 5 minutes or until mixture is thick and reduced to 4 cups, stirring often.
Chutney will keep tightly sealed in the refrigerator for up to a week.
Check out these recipes with chutney on Food Republic: