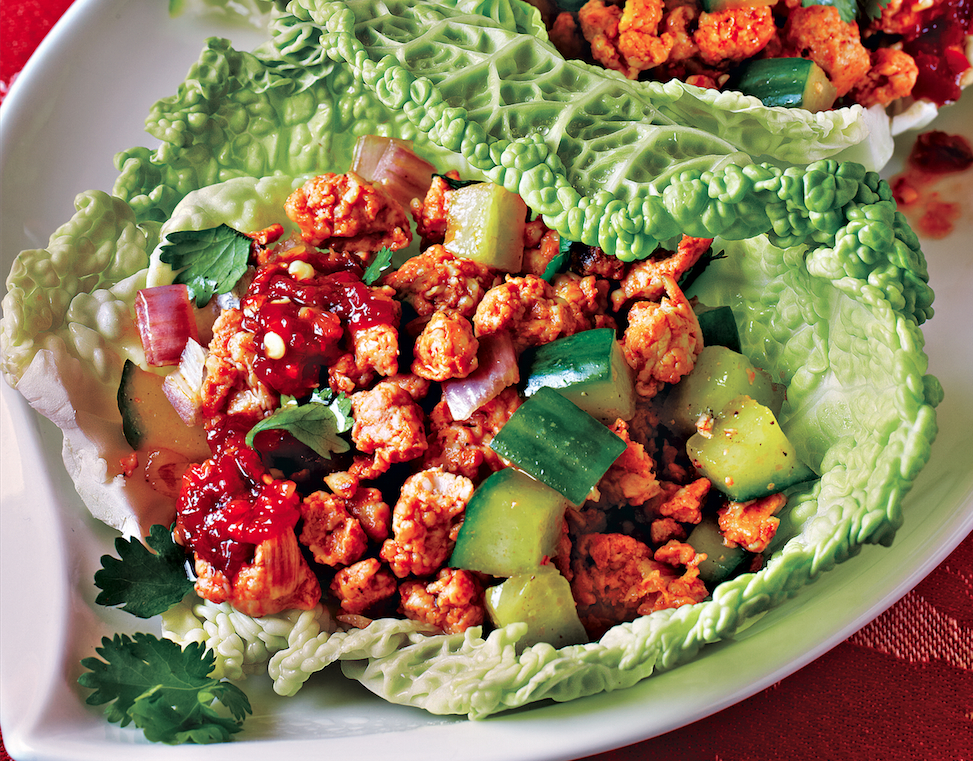 If you're venturing out to learn a new cuisine, trust the professionals at Cooking Light Global Kitchen, by New York Times best-selling author David Joachim. It's basically our new go-to book for making easy global recipes at home. Ready to make healthy Thai food at home? Try this recipe for savory chicken larb.
Also known as lap and lahb, larb is a minced meat salad and the national dish of Laos. Some Lao and Thai versions include fish sauce and some favor mint over cilantro (some use both), but the core of the dish remains a chopped salad of lightly spiced pork, beef, chicken, or duck brightened with fresh herbs. It's great for potlucks because you serve it at room temperature.
Ingredients
2

tablespoons

red curry paste

1

pound

chicken breast halves, skinless and boneless

1/2

teaspoon

salt

1

tablespoon

canola oil

1/3

cup

English cucumber, chopped

1/4

cup

shallots, finely chopped

3

tablespoons

fresh cilantro, chopped

2

tablespoons

fresh lime juice

8

leaves

cabbage

Thai chili paste (optional)
Directions
Place curry paste, chicken and salt in a food processor; process until smooth.
Heat a large skillet over medium-high heat. Add oil to pan; swirl to coat.
Add chicken to pan; sauté 6 minutes or until done, stirring to crumble.
Remove pan from heat; stir in cucumber and next 3 ingredients (through juice).
Place 2 cabbage leaves on each of 4 plates; divide chicken mixture evenly among leaves.
Serve with chile paste, if desired.
Find more Thai dishes on Food Republic: