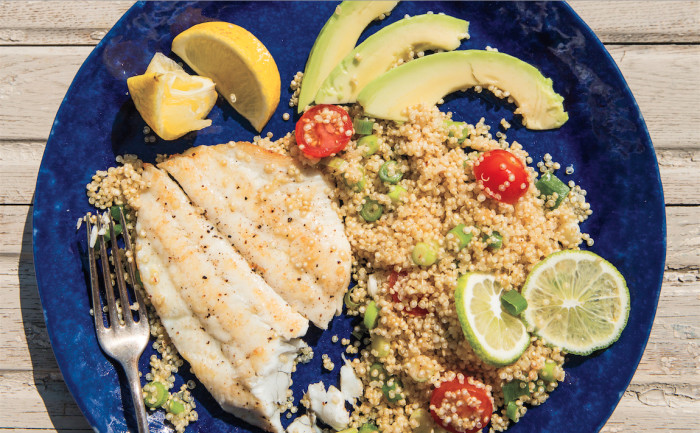 James Beard–nominated cookbook author Jennifer Trainer Thompson's new book title says it all: a fearless guide to grilling, shucking, searing, poaching and roasting seafood. If you have a fish craving that can only be satisfied in your own kitchen, Thompson has a recipe, detailed instructions and plenty of information on why your hankering is awesome. 

With a sweet white meat, fluke (which resembles a flounder) is a great eating fish. It's a bottom-dwelling flatfish that's also called a summer flounder (no, it's not a fluke) because they winter off the continental shelf and come into the bays during the summer months.
Ingredients
Quinoa salad
1

cup

quinoa

2

cups

vegetable broth

4

scallions, minced

1/4

cup

chopped fresh cilantro

2/3

cup

cherry tomatoes, halved
Dressing
Juice of 1 1/2 limes

1/4

teaspoon

lime zest

2

tablespoons

olive oil

1

garlic clove, minced

1/8

teaspoon

chipotle powder

1/4

teaspoon

salt

freshly ground black pepper
4

fluke fillets, approximately 1/2 pound each

1

tablespoon

olive oil

1

tablespoon

butter

salt and freshly ground pepper

4

lemon wedges

1

ripe avocado, cut into thin slices

1

lime, cut into thin wheels, for garnish
Directions
For the fillets and quinoa
To prepare the quinoa: Rinse the quinoa several times, then combine with the vegetable broth in a saucepan, cover partially, and cook over medium heat for 10 minutes. Lower the heat, cover completely, and cook an additional 10 minutes. Drain the quinoa, put in a bowl, and let cool slightly.

To make the dressing: Whisk together the lime juice, lime zest, oil, garlic, chipotle powder, salt, and pepper to taste. Toss with the quinoa, and then add the scallions, cilantro, and cherry tomatoes. Toss once more gently and season to taste. The quinoa is delicious at room temperature or cold.

Pat dry the fillets and season with salt and pepper. Heat a heavy, flat skillet over medium-high heat. Add the oil and butter, and then place the fillets skin-side down in the skillet and cook for a few minutes, until golden, gently agitating the pan so the skin doesn't burn as it crisps. Flip carefully and finish cooking through, about 1 minute. To serve (immediately), plate the quinoa salad and lay a fillet skin-side up atop each salad. Garnish with the lemon wedges and serve on individual plates, with avocado slices fanned over the quinoa and lime wheels on the side.