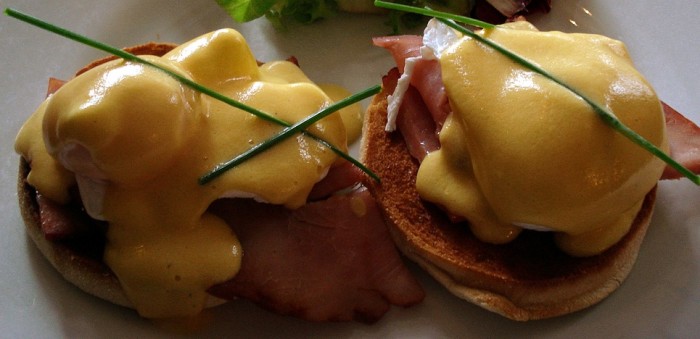 The word "healthy" is usually not found anywhere near the phrase Eggs Benedict. But this version of the poached egg dish with the luxe Hollandaise sauce swaps out the butter for yogurt, making for a lighter and healthier yet still indulgent brunch.
Try it when you're manning up and making breakfast or brunch for Mother's Day, and earn extra bonus points for not only cooking, but for being thoughtful to boot.
Ingredients
4

eggs

2

whole wheat, light English muffins

4

thin slices

Canadian bacon

1/2

cup

plain yogurt, fat- free

1

teaspoon

dry mustard

Kosher salt and cayenne pepper, for seasoning

1

tablespoon

lemon zest, for garnish

1

tablespoon

parsley, fresh, chopped, for garnish

1

to 2 tablespoons

white vinegar

non- fat cooking spray
Directions
In a large pan coated with non- stick cooking spray, brown the Canadian bacon over medium heat. Remove from the pan and keep warm.
In a small saucepan, over very low heat, combine yogurt, dry mustard, and season with the salt and cayenne pepper, whisking continually until warm. Be careful not to overheat or your yogurt will curdle.
In a pot of boiling water add the vinegar and reduce heat to a low simmer. Crack one egg into a small bowl and very gently add it to the simmering water. Repeat this for the other eggs. Simmer for 3-5 minutes until the egg is completely coagulated and the yolk looks slightly opaque.
In the meantime, toast the English muffin. Assemble by placing the toasted muffin on a plate. Top with a piece of the Canadian bacon, a poached egg, and then top with the yogurt sauce. Sprinkle lemon zest over each egg, and sprinkle chopped parsley over each as well. Enjoy.