Hatfield's Croque Madame Sandwich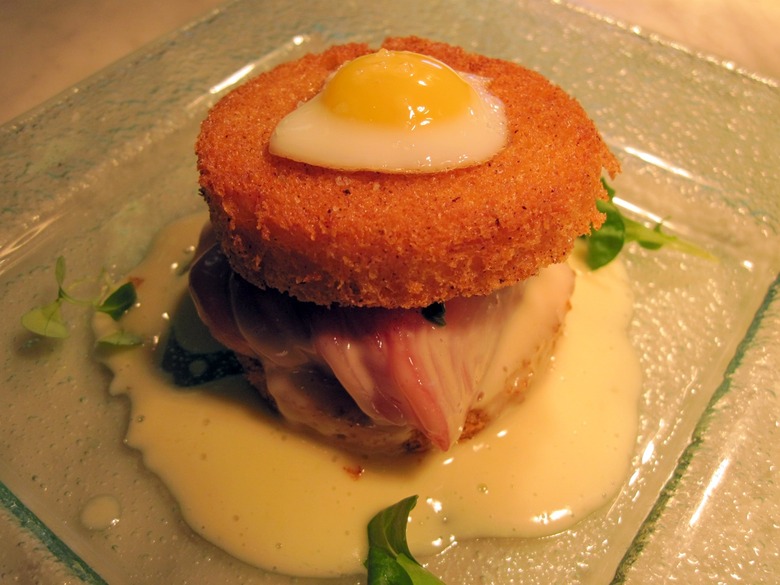 Photo: Courtesy of Hatfield's
Today's sandwich of the week is a Croque Madame at Hatfield's in Los Angeles, which is almost guaranteed to be unlike any croque madame you'd find in France.
What's a croque madame, you might first ask. Well it's a variation on the beloved Parisian invention the croque monsieur, which is basically a grilled cheese made with gruyère cheese, ham, two pieces of brioche (or a thick white bread), and a topping of béchamel sauce. A croque madame simply adds a sunny-side up egg to the top of a croque monsieur, and voilà, a rich, buttery sandwich that goes down smooth.
Out in LA, Quinn Hatfield serves a version of the croque madame at his namesake restaurant that keeps the brioche but subs out almost everything else. Inside the toasted bread is hamachi and prosciutto, the béchamel gives way to a creamy butter sauce known as beurre blanc, and a quail egg, sunny-side up, rests atop this inventive sandwich.
How'd he come up with it? According to Hatfield, he conceived of the sandwich during a stint as cook at Rocco DiSpirito's Union Pacific, while experimenting with how hamachi—otherwise known as Japanese amberjack or more commonly in US sushi spots, yellowtail—would emulate the melt-in-your-mouth sensation of a proper croque. DiSpirito fell for Hatfield's creation and made it a special, but when Hatfield tried to improvise his sandwich for a group of VIPs on a night he didn't have the right ingredients, it flopped, and DiSpirito 86'd it from the menu.
Hatfield went on to launch his first restaurant, Cortez in San Francisco, where his croque madame became a signature, and he's since moved it down the coast to Hatfield's.
He was nice enough to share the recipe with Food Republic.
---
Ever had Hatfield's Croque Madame? Any other favorite version of this Parisian mainstay? Tell us in the comments.
Hatfield's Croque Madame Sandwich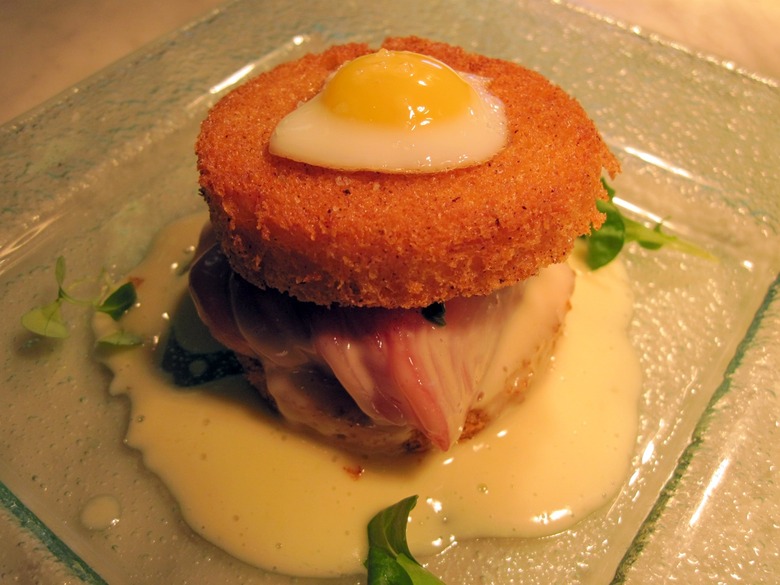 Ingredients
8 pieces brioche or pain de mie
4 tablespoons butter
8 ounces Japanese hamachi
8 slices prosciutto
1/2 cup white wine
1 shallot
1/2 pound butter
4 quail eggs
1 tablespoon chives
fleur de sel
Directions