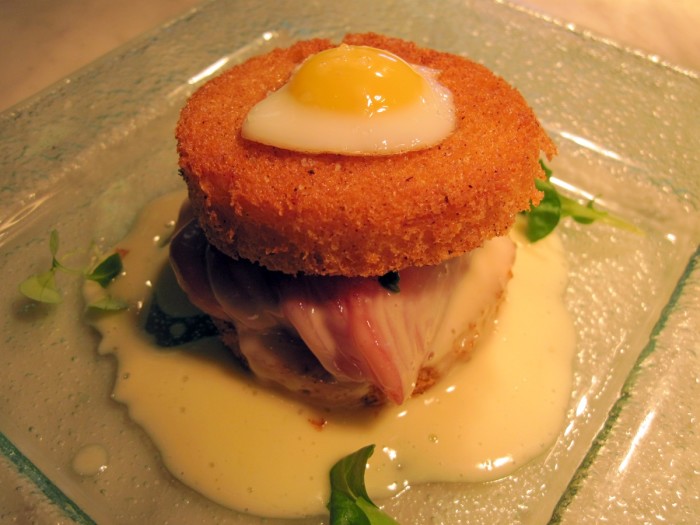 Today's sandwich of the week is a Croque Madame at Hatfield's in Los Angeles, which is almost guaranteed to be unlike any croque madame you'd find in France.
What's a croque madame, you might first ask. Well it's a variation on the beloved Parisian invention the croque monsieur, which is basically a grilled cheese made with gruyère cheese, ham, two pieces of brioche (or a thick white bread), and a topping of béchamel sauce. A croque madame simply adds a sunny-side up egg to the top of a croque monsieur, and voilà, a rich, buttery sandwich that goes down smooth.
Out in LA, Quinn Hatfield serves a version of the croque madame at his namesake restaurant that keeps the brioche but subs out almost everything else. Inside the toasted bread is hamachi and prosciutto, the béchamel gives way to a creamy butter sauce known as beurre blanc, and a quail egg, sunny-side up, rests atop this inventive sandwich.
How'd he come up with it? According to Hatfield, he conceived of the sandwich during a stint as cook at Rocco DiSpirito's Union Pacific, while experimenting with how hamachi—otherwise known as Japanese amberjack or more commonly in US sushi spots, yellowtail—would emulate the melt-in-your-mouth sensation of a proper croque. DiSpirito fell for Hatfield's creation and made it a special, but when Hatfield tried to improvise his sandwich for a group of VIPs on a night he didn't have the right ingredients, it flopped, and DiSpirito 86'd it from the menu.
Hatfield went on to launch his first restaurant, Cortez in San Francisco, where his croque madame became a signature, and he's since moved it down the coast to Hatfield's.
He was nice enough to share the recipe with Food Republic.
---
Ever had Hatfield's Croque Madame? Any other favorite version of this Parisian mainstay? Tell us in the comments.
Ingredients
8

pieces

brioche or pain de mie

4

tablespoons

butter, softened

8

ounces

Japanese hamachi, very fresh

8

slices

prosciutto

1/2

cup

white wine

1

shallot, sliced thin

1/2

pound

butter, cut into small cubes

4

quail eggs

1

tablespoon

chives, chopped fine

fleur de sel, to taste
Directions
Cut the bread into rounds using a 3 inch ring mold. Evenly spread the softened butter on both sides of each bread round and place on a flat sheet tray. Reserve until needed. Slice the hamachi into thin slices, about 2 ½ inches wide. Divide the hamachi into 4 portions and alternate a slice of hamachi with a small slice of prosciutto (you will need to cut or gently tear the prosciutto; ideally each slice of hamachi is shingled with an equal sized slice of prosciutto). Each portion should begin and end with hamachi. Keep the portions refrigerated until 5 minutes before serving.
For the beurre blanc:
Put the wine and shallot in a small saucepot and reduce over medium heat until the wine has reduced to a teaspoon or so. Immediately begin whisking in the cubed butter piece by piece to create an emulsified sauce. When all the butter has been incorporated and the sauce is very warm to the touch, season to taste with salt and strain through a fine sieve into a heat proof container. Keep the sauce in a warm place (a hot water bath on top of the oven works well). The sauce should hold for an hour if it stays warm.
To serve:
Preheat a convection oven to 375˚F. Place a non-stick pan over medium-low heat. Put the butter bread rounds in the oven and cook until the bottom has a nice golden brown color. Flip the bread and continue cooking until crispy on the outside and even golden brown on both sides.
While the bread is cooking, crack each quail egg and gently pour into the non-stick pan; the pan should be hot enough so that the white doesn't spread out too much but not so hot that the white bubbles and dries out (quail eggs often come in packs of ten so a practice egg or two to get the pan heat just right may be a good idea before toasting the bread). When the bread is toasted and the egg whites are set but the yolk is still runny, place each of the four hamachi portions on four pieces of bread and place the eggs on the remaining four pieces. Place the hamachi pieces on four plates and generously top with the beurre blanc- about an ounce per person. Top each with a sprinkle of chives, then the piece of bread topped with the quail egg. Press gently so the top sits nicely and securely. Sprinkle a littlesea salt on each egg yolk and serve immediately.