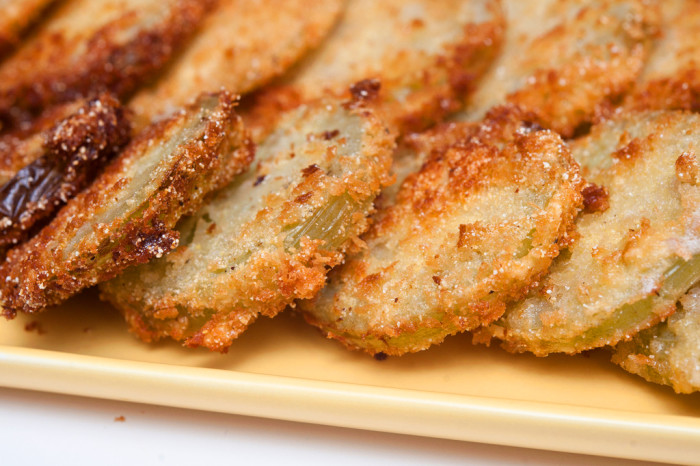 Despite all Hanukkah dishes needing to be cooked in oil/fried, we do not fry the mozzarella to allow for a textural interplay between the creaminess of the cheese and the crispy basil and tomato crunch. It's a fun holiday spin on the arguably healthier simple caprese salad.
Ingredients
Fried Green Tomatoes
1

green tomato, sliced into 1/4-inch thick slices

flour

panko bread crumbs

vegetable oil

sea salt
Fried Basil
6

large, fresh basil leaves

1/2

cup

water

1/4

cup

flour

vegetable oil

salt
Mozzarella
4 1/4-inch thick slickes of fresh mozzarella
Directions
For Fried Green Tomatoes
Salt and pepper the tomato slices; dredge in flour.
Dip slices in beaten eggs, letting excess drip off, then coat well with Panko. Fry in hot oil until browned, turning gently (about 3 minutes each side).
Fried Basil
In a shallow bowl, whisk the flour and water
Pour vegetable oil into a saute pan and heat until starts to bubble.
Dredge the basil leaves in the batter and fry, about 1 minute per side or until golden brown.
For Caprese Salad
Interchange tomato and mozzarella on a plate, placing basil leaves on top. Sprinkle with sea salt and drizzle extra virgin olive oil.