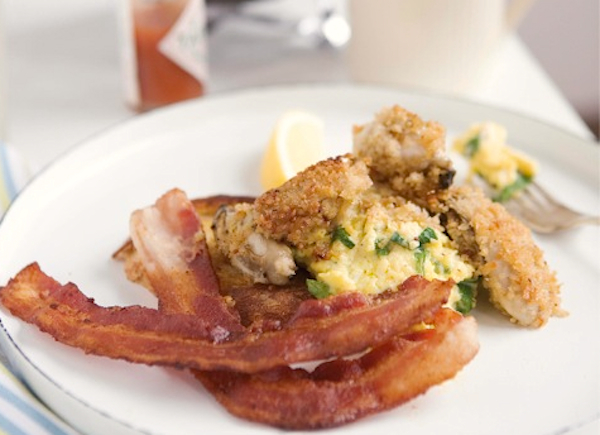 Hangtown fry was invented during the 1850s Gold Rush in Placerville, California, then known as Hangtown. Legend has it that a rich gold prospector coined the name when he demanded the most expensive dish at a local hotel. In those days, the costliest ingredients were bacon (from the East Coast), eggs (likely cormorant eggs delicately brought in from off the coast of San Francisco) and oysters (brought on ice or in saltwater barrels from the city). I've nicknamed this historically famous dish "Hangover Fry" because, well, it does the job — let's just leave it at that.
Ingredients
8

strips

thick-cut bacon

1/2

pint

preshucked fresh oysters, or a dozen medium shucked oysters

1

cup

buttermilk

1

tablespoon

unsalted butter

1 1/2

cup

arugula, roughly chopped

1/2

teaspoon

Tabasco

1/4

cup

half-and-half

salt and freshly ground pepper

1/2

cup

panko or regular breadcrumbs

1

tablespoon

high-heat vegetable oil
Directions
Lay the bacon on an aluminum-foil-lined baking sheet. Place in the cold oven, then turn the oven on to 400F, and set the timer for 20 minutes. Soak the oysters in the buttermilk for 30 minutes in the refrigerator.
In the meantime, melt the butter in a large sauté pan over medium-low heat. Whisk the eggs with the arugula, Tabasco, and half-and-half. Season with salt and pepper and then pour the mixture into the pan.
Grab a wooden spoon and start stirring. You will be tempted to turn the heat up, but don't. If you keep stirring the eggs at a medium-low temperature they will produce the creamiest, most delicious eggs you've ever had. It should take 8 to 10 minutes to set into small curds, but they will still have lots of moisture. Look for creamy, barely set eggs.
When the eggs are done, place them at the back of the stove to keep warm.
When the bacon has finished cooking, remove it from the oven and set aside to drain on a paper-towel-lined plate. Drain the oysters and discard the buttermilk. Place the panko on a plate and dredge the oysters, coating them well on both sides.
In a fresh sauté pan over high heat, add the vegetable oil. Pan-fry the oysters until they brown on one side, 1 to 2 minutes. Then flip them and cook just 30 seconds more on the other side.
Serve each person a piece of toast and top with eggs, 2 slices of bacon, and a fried oyster or two. Garnish with a lemon wedge.