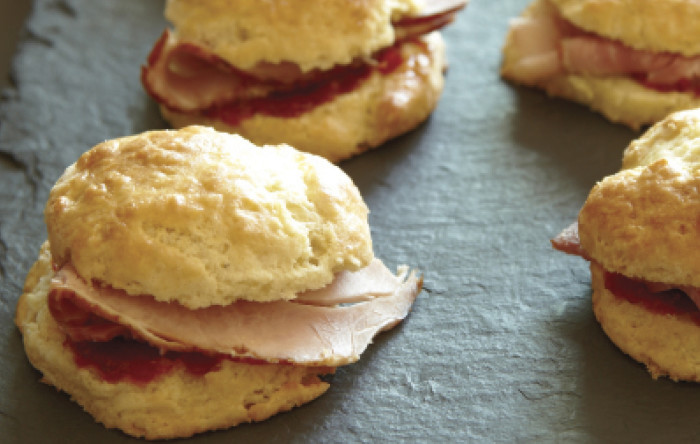 We're crazy about these ham biscuit sliders from Elizabeth Falkner's new book, Cooking Off The Clock: Recipes From My Downtime. We're in a slider phase already with football season in full-swing, so why not have them for breakfast or brunch?
Related: It's Not Just Desserts For Top Pastry Chef Elizabeth Falkner
These rich, buttery biscuits are a great reason to justify the 10-pound honey roasted ham you cooked with every intention of finishing by yourself.
Ingredients
Biscuits
2

cups

all-purpose flour

1/4

cup

sugar

1

tablespoon

baking powder

1/2

teaspoon

baking soda

2

teaspoons

salt

1

stick, plus 4 tablespoons at room temperature

cold unsalted butter

1/2

cup

grated white cheddar cheese

1/4

cup

buttermilk

1/4

cup

heavy cream

1

large egg

2

tablespoons

water
For serving
1/2

cup

chile jam

1/4

cup

thinly sliced ham, for each biscuit
Directions
Combine the flour, sugar, baking powder, baking soda and salt in a bowl. Work in the stick of butter with your fingertips until the mixture is the texture of small beads. Toss in the grated cheese. Add the buttermilk and cream and work gently to combine but still keeping the texture shaggy. Wrap the dough in plastic wrap and refrigerate for at least 30 minutes.
Preheat the oven to 350˚F. Line a baking sheet with parchment paper.
Remove the dough from the refrigerator. Lightly flour a surface. With a rolling pin, roll out the dough on the floured surface to an 8 by 12-inch rectangle; fold in half crosswise.
Add more flour to the work surface if necessary, and roll the dough out again to an 8 by 12-inch rectangle; fold in half crosswise. Roll out once again to an 8 by 12-inch rectangle. Using a sharp knife or biscuit cutter, cut into 3-inch squares or rounds. Set the biscuits on the prepared baking sheet.
Whisk the egg and the 2 tablespoons water together to make an egg wash, and brush the mixture on the biscuit tops. Bake until golden, 25 to 30 minutes. Cool slightly.
Slice each biscuit in half. Spread the biscuits with the 4 tablespoons butter and chile jam and fill with sliced ham. Serve warm or cool.
Check out these slider recipes on Food Republic: