Ham And Gruyère Waffle Tartines Recipe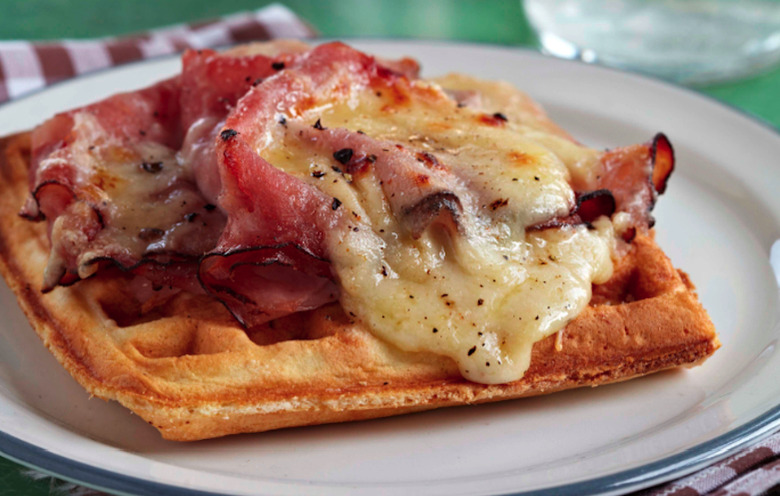 French twist on classic waffles for a savory brunch. (Photo: Lucy Schaeffer.
We may receive a commission on purchases made from links.
A tartine can be a slice of bread simply topped with butter and preserves, or it can be a more elaborate open-faced sandwich. (Leave it to the French to give even the humblest foods such a charming name.) This recipe employs waffles as the bread and combines the free-spirited toplessness of a tartine sandwich with classic croque monsieur ingredients. Waffle tartines make a satisfying breakfast or, with a vinaigrette-dressed salad served alongside, an excellent midday meal or light dinner. If you've got classic waffles in your freezer and are looking for an out-of-the-ordinary way to use them, here's your answer.
Ham And Gruyère Waffle Tartines Recipe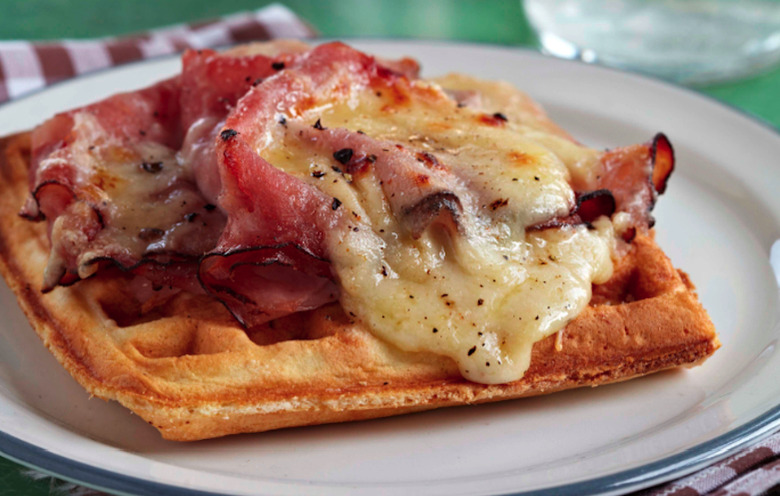 Ingredients
4 standard classic waffles
12 ounces good quality sliced ham
3/4 cup shredded Gruyère cheese
whole-grain mustard
cornichons
2 tablespoons unsalted butter
2 tablespoons unbleached all-purpose flour
1 cup whole milk
1/2 cup shredded Gruyère cheese
pinch of ground nutmeg
pinch of cayenne
Fine sea salt and freshly ground black pepper
Directions
Preheat the oven to 500°F. Line a rimmed baking sheet with aluminum foil.
In a small saucepan over medium heat, melt the butter. Whisk in the flour to make a roux and cook for about 2 minutes.
Whisking constantly, gradually pour in the milk. Once all the milk is in, increase the heat to medium-high and bring the mixture to a boil. Reduce the heat to maintain a steady but not overly vigorous simmer and cook the sauce, whisking occasionally, until it is nicely thickened and the starchy taste of the flour has been cooked out, about 5 minutes.
Remove the pan from the heat, add the cheese, and whisk until the cheese is melted and the sauce is smooth. Whisk in the nutmeg and cayenne, and then season with salt and pepper. Set the sauce aside.
Lay out the waffles on the prepared baking sheet. Top each waffle with a portion of ham.
Spoon one-quarter of the sauce over the ham on each waffle and spread the sauce to about 1/2 inch of the edge.
Sprinkle shredded Gruyère on each, dividing it evenly. Bake until the cheese is melted and spotty brown, 8 to 10 minutes. (If the cheese is not yet browned, turn on the broiler and broil the tartines until the cheese begins to color; this should take no longer than a minute.)
Let the tartines cool for a few minutes, then transfer them to individual plates. Serve right away, passing whole-grain mustard and cornichons at the table.
Toasted Oatmeal Waffles With A Hint Of Cinnamon Recipe
Golden Cornmeal Waffles Recipe
Toad In The Waffle Recipe