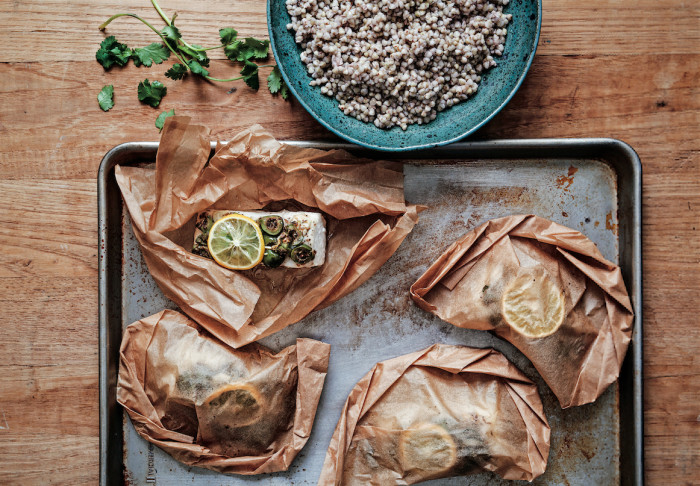 When it comes to the very best of kosher food and wine, look no further than renowned winemaker and cookbook author Jeff Morgan. Morgan's new book, The Covenant Kitchen, features recipes he's collected on his travels to Italy, Provence, North Africa, Asia, California and Israel. This is definitely the book in which you'll find your new favorite fish recipe.
Halibut is a light-fleshed fish well suited to being dressed in this fragrant olive tapenade — a variation on traditional Mediterranean olive spreads. This exquisitely simple preparation uses parchment paper shaped into a "pocket" for cooking the fish with minimal loss of moisture. (If you don't have parchment paper, you can use foil.)
You'll notice that the cumin and coriander seeds are lightly crushed. Start with whole seeds and use a mortar and pestle to crush them. If you don't have a mortar and pestle, set the seeds on a cutting board and use the flat side of a large knife to gently but firmly press down on them. Kasha, or roasted buckwheat groats, has a lovely nutty quality that frames the halibut well, but rice or another grain can be substituted.
In your wineglass, enjoy any refreshing, light-textured wine. Among whites, Sauvignon Blanc, Viognier, Roussane, Riesling and Chenin Blanc come to mind. Reds tend to be too rich, but a light-bodied Pinot Noir would make a fine choice. So would a dry rosé — technically a red wine that drinks more like a white.
Ingredients
Salt

and freshly ground pepper

2

cups

water

1

cup

kasha

7

tablespoons

extra virgin olive oil

1

cup

green olives, pitted and diced

2

cloves

garlic, sliced into thin rounds

2

teaspoons

cumin seeds, lightly crushed

2

teaspoons

coriander seeds, lightly crushed

4

halibut steaks (about 6 ounces each)

4

thin, round slices of lemon

1/4

cup

coarsely chopped fresh cilantro
Directions
Preheat the oven to 400°F.
In a medium saucepan, salt the water and bring to a boil.
Add the kasha, cover, reduce the heat to low and simmer until the water has been absorbed, about 10 minutes.
Remove from the heat, keep covered and set aside.
Just prior to serving, add 3 tablespoons of the olive oil and gently fluff the kasha with a fork to mix well.
While the buckwheat is cooking, make the olive tapenade: In a medium bowl, use a wooden spoon to thoroughly mix the olives, garlic, cumin, and coriander seeds.
Cut off four 12-by-12-inch sheets of parchment paper (or foil).
Place a halibut steak in the center of each sheet.
Crimp the edges of the paper to prevent any liquid from seeping out as you prepare the fish.
Lightly season both sides of the fish with salt and pepper.
Drizzle each steak with 1 tablespoon olive oil.
Dividing evenly, coat the top of each steak with the olive tapenade.
Place a slice of lemon on top of the tapenade.
Pull the sides of each parchment sheet together over the fish steaks to cover them.
Pinch or fold the sheets firmly together at the top to create a closed pocket.
Place the packets on a baking sheet and bake for about 15 minutes. When done, the fish should be completely white and firm to the touch.
Set a mound of buckwheat on each plate.
Unwrap the fish pockets and gently remove the contents, leaning each steak up against the buckwheat.
Drizzle both the fish and the grain with juices remaining in the pockets.
Garnish with cilantro and additional salt and pepper to taste.
Find more halibut dishes on Food Republic: