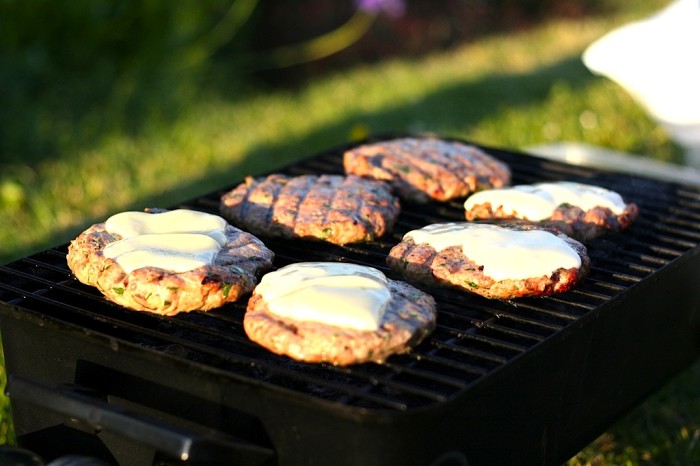 How many burgers have you eaten this summer? A dozen? A score? Enough to stretch from one end of a city block to the other? Good, so have we. But how many chicken burgers have you eaten? Turkey patties don't count — while delicious, they're a different beast entirely. And any kind of "burger" that involves a skinless breast is no chicken burger of ours either (but if you really need one, please make sure it's juicy). This ground chicken burger recipe is different. These burgers are really delicious and need your attention. When you can't decide between barbecued bird and a meaty burger, they'll be there for you.
Treat 'em nicely, stuff them with all manners of goodness, throw them a few homemade pickles to show them you care, whip up a batch of grown-up ketchup and make it known that you mean grown-up business. Don't worry about beef. She's not going anywhere. Today for lunch, you're chickening out.
Chicken burgers are a bit more temperamental than beef, as they have way less fat and can dry out if overcooked. So stick with the chicks by the grill, keep your tongs within reach and you'll have juicy, flavorful burgers that'll lighten up your routine in no time.
Ingredients
1

pound

ground chicken

2

scallions, sliced thin

1

cup

seasoned bread crumbs

1

egg, lightly beaten

Salt and pepper, for seasoning

4

sesame seed burger buns

4 to 6

slices

cheese, your choice (i.e. swiss, american, gouda, cheddar)
Directions
In a large bowl, combine the ground chicken, sliced scallions, bread crumbs and egg.
Season generously with coarse salt. Add a few twists from the pepper mill and mix again.
Form the mixture into 4 to 6 patties. Be sure the patties are flattened, as they will puff slightly once they hit the heat.
Place the patties on a preheated medium-hot grill and cook for 4 to 5 minutes on each side, or just until the juices run clear when lightly pressed on. Top with cheese and close grill for one minute to melt.
Place the buns on the grill for 30 seconds on each side to warm. Place one burger on each bun and top as you see fit.