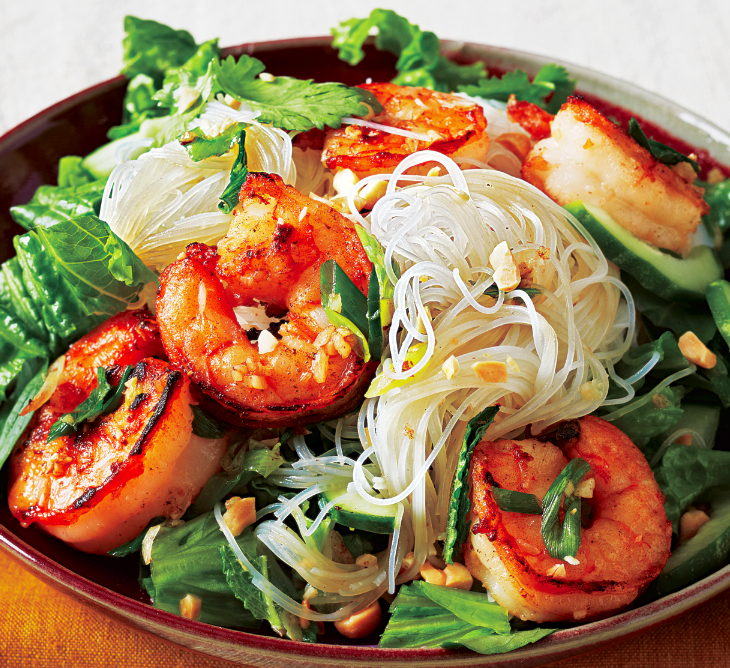 If you're venturing out to learn a new cuisine, trust the professionals at Cooking Light Global Kitchen, by New York Times best-selling author David Joachim, for your new go-to book for making easy global recipes at home. Ready to make healthy Vietnamese food at home? Try this recipe for savory grilled Vietnamese shrimp over tangy rice noodle salad.
Thin rice noodles tend to clump together when cooked. But Andrea Nguyen, author of Into the Vietnamese Kitchen, developed a cool trick that keeps them from sticking too much: Invert a small bowl in the bottom of the colander for the noodles to drape over as they drain. "We're scrappy, clever cooks," says Nguyen. The proof is in this complete meal that stretches the main protein (shrimp) with lettuce, cucumbers, herbs and nuts. The bold flavor comes from nuoc cham, Vietnam's go-to sauce for dipping and drizzling that's sweet, sour, salty, hot, and savory all at once.
Ingredients
5

ounces

rice vermicelli noodles, uncooked

1/2

cup

water, lukewarm

3

tablespoons

granulated sugar

1/4

cup

fresh lime juice

1

tablespoon

rice vinegar

5

teaspoons

fish sauce (such as Three Crabs)

2

serrano chiles, thinly sliced

4

cups

green leaf lettuce, cut into 1/4-inch slices

3

cups (about 2)

Kirby pickling cucumbers (about 2), seeded and diagonally sliced

1/4

cup

fresh cilantro leaves

1/4

cup

fresh Thai basil leaves, torn

1/4

cup

mint leaves, torn

2

teaspoons

cornstarch

1

teaspoon

dark brown sugar

1/4

teaspoon

salt

3/4

teaspoon

white pepper

1

pound

large shrimp, peeled and deveined

2

tablespoons

canola oil, divided

1/3

cup

green onions, cut into 1/4-inch slices

3

cloves

garlic, finely chopped

1/2

cup

unsalted, dry-roasted peanuts, coarsely chopped
Directions
Cook rice vermicelli noodles according to package directions.
Drain and rinse with cold water; drain.
Combine 1/2 cup lukewarm water and granulated sugar in a medium bowl, stirring until sugar dissolves.
Add lime juice, vinegar, fish sauce and chiles; set aside.
Combine lettuce, cucumber and herbs; set aside.
Combine cornstarch, brown sugar, salt and pepper in a large bowl; stir until well combined. Add shrimp; toss to coat.
Heat a wok or large skillet over high heat. Add 1 1/2 teaspoons oil to pan; swirl to coat.
Add half of shrimp; cook 1 1/2 minutes on each side or until shrimp are seared. Remove from pan.
Add 1 1/2 teaspoons of oil to wok; swirl to coat. Repeat procedure with remaining shrimp.
Reduce heat to medium-high. Add remaining 1 tablespoon oil to wok; swirl to coat.
Add onions and garlic; stir-fry 30 seconds.
Return shrimp to pan; stir-fry 1 minute.
Arrange about 1 cup lettuce mixture in each of 4 large bowls, and top each serving with about 1 cup noodles and 2 tablespoons chopped peanuts.
Divide the shrimp evenly among servings, and serve each with 1/4 cup of sauce.
Find more grilled shrimp recipes on Food Republic: