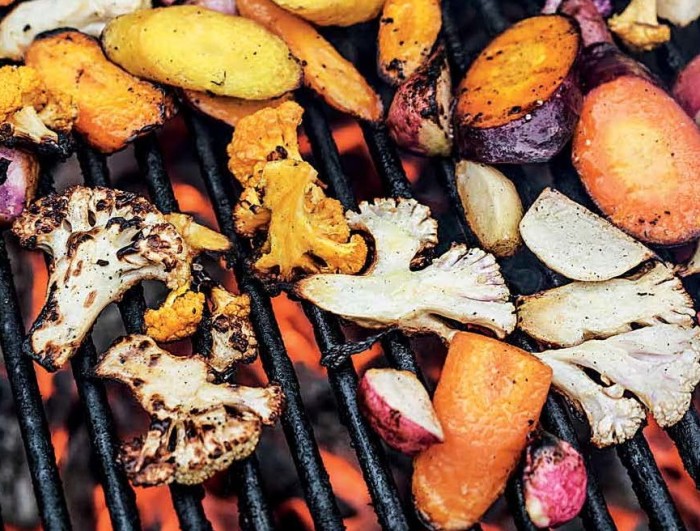 We recently sat down with Food & Wine Best New Chefs Andy Ticer and Michael Hudman of Memphis' Andrew Michael Italian Kitchen to talk about their soon-to-be-released cookbook, Collards & Carbonara. It's a tribute to their Italian heritage and Southern roots not to be missed in this fall's cookbook lineup. They loaned us a sneak peek at one of their perfect end-of-summer salads with a dressing you'll make over and over again.
Chef Hudman says:
"This dish came about when Andy and I and our chef de cuisine, Ryan, were in the parking lot and the delivery truck from Woodson Ridge Farms pulled up. It was carrying a variety of perfect baby vegetables, and we wanted to find a way to showcase them and their distinct flavors. We also had an itch to grill and knew that the combination of the fattiness of our brown butter vinaigrette would replace the need for meat. You can use a variety of hearty vegetables, depending on what's in season where you live."
Ingredients
Brown Butter Vinaigrette
1/2

cup

unsalted butter

2

tablespoons

shallot, minced

2

tablespoons

garlic, minced

1

tablespoon

Dijon mustard

1/4

cup

sherry vinegar

1/2

extra virgin olive oil

kosher salt and freshly ground pepper
Grilled Vegetable Salad
1

head

cauliflower, cut into large florets and thickly sliced

18

baby carrots, cut on the bias into large pieces

10

large radishes, quartered

1/2

cup

olive oil

kosher salt and freshly ground pepper

6

ounces

wild arugula

Leaves from 6 sprigs fresh mint, torn

12

ounces

fresh goat cheese, crumbled
Directions
Prepare a hot fire for direct-heat cooking in a charcoal grill.

To make the vinaigrette, in a saucepan over medium heat, melt the butter. When

the butter is melted, reduce the heat to medium-low and simmer gently, swirling the pan often, until the butter is browned and smells nutty, about 10 minutes. Let cool

to room temperature.

In a large bowl, whisk together the brown butter, shallot, garlic, mustard and vinegar. Whisk in the oil and season to taste with salt and pepper.

(You can also whirl the ingredients together in a blender, if you like.)

In a large bowl, mix together the cauliflower, carrots, radishes and the 1/2 cup

olive oil. Season with salt and pepper.

Put the vegetables on the grill rack and cook, turning once, until pronounced grill marks form, about 2 minutes per side. You want to have nice caramelization on the vegetables, but they should still have some integrity to them.
Remove the vegetables from the grill, put them in a large bowl, and let cool slightly. Add the arugula, mint and vinaigrette and toss well. Divide the vegetables evenly among 6 salad plates. Top with the goat cheese, dividing it evenly, and serve.