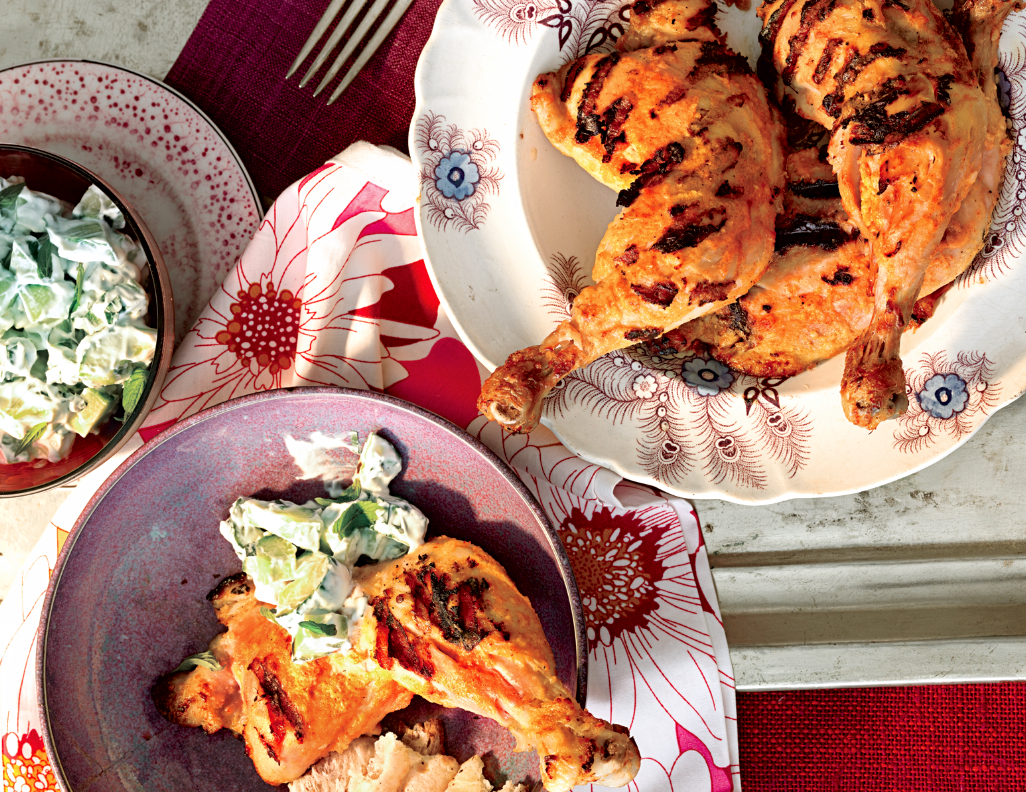 If you're venturing out to learn a new cuisine, trust the professionals at Cooking Light. Global Kitchen, by New York Times best-selling author David Joachim, for your new go-to book for making easy global recipes at home. Some of the best grilled chicken around comes from India, where a simple, healthy and very effective marinating technique keeps the meat juicy and flavorful.
Ingredients
Marinade
3/4

cup

fat-free Greek yogurt

2

tablespoons

fresh ginger, peeled and chopped

1

tablespoon

paprika

1

tablespoon

fresh lime juice

1

teaspoon

chili powder

3/4

teaspoon

salt

1/2

teaspoon

ground turmeric

1/2

teaspoon

ground cumin

1/8

teaspoon

ground red pepper

3

cloves

garlic, chopped

4

12-ounce

bone-in chicken leg-thigh quarters, skinned
Raita
3/4

cup

fat-free Greek yogurt

3/4

cup

cucumber, chopped and seeded

2

tablespoons

fresh mint, chopped

1/2

teaspoon

ground cumin

1/4

teaspoon

salt

Cooking spray
Directions
For the marinade:
Place first 10 ingredients in a blender; process until smooth.

Pour into a large zip-top plastic bag.

Add chicken; turn to coat.

Marinate chicken in refrigerator at least 4 hours or overnight.
For the raita:
Combine 3/4 cup yogurt and next 4 ingredients (through 1/4 teaspoon salt) in a small bowl.

Cover and refrigerate.
For tandoori chicken:
Remove chicken from refrigerator, and let stand at room temperature 45 minutes.

Prepare grill for indirect grilling. If using a gas grill, heat one side to medium-high and leave one side with no heat. If using a charcoal grill, arrange hot coals on either side of charcoal grate, leaving an empty space in the middle.

Remove chicken from marinade, and discard remaining marinade.

Place chicken on unheated part of grill rack coated with cooking spray.

Close lid and grill 90 minutes or until a thermometer inserted into meaty part of thigh registers 165°F, turning chicken every 20 minutes.

Serve 1 chicken quarter each with about 1/3 cup of raita.
Find more tandoori recipes on Food Republic: