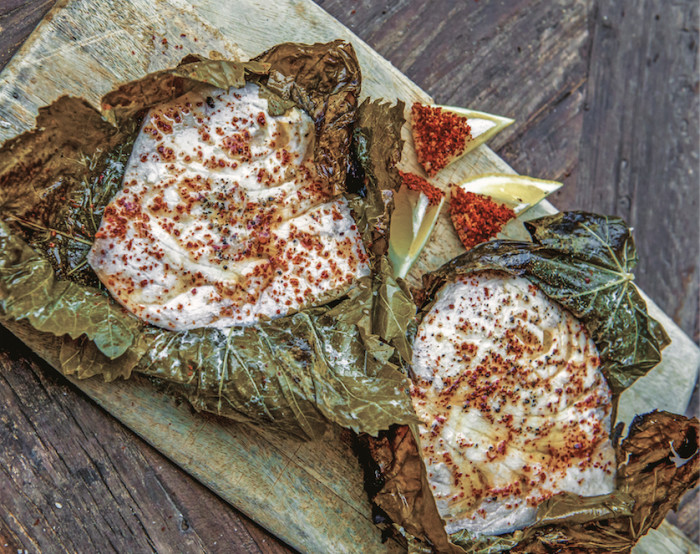 Boston is renowned for its diversity of culinary options, with food from every ethnicity you can name. Mike's City Diner, run by Lebanese Jay Hajj, is a must-visit when you're in town. His fusion of New England classics with elements from his native Beirut is a big crowd-pleaser, and his new cookbook is packed with phenomenal recipes like this grilled swordfish in grape leaves. 
The pickled grape leaves in this dish make an ideal pocket in which to steam your swordfish to delicious perfection on the grill. This dish is very simple, but very elegant and flavorful and can make you look like a master of the backyard grill.
Ingredients
2

swordfish steaks (6 ounces)

1

teaspoon

kosher salt

1

teaspoon

fresh ground black pepper

Juice of two lemon wedges

8 to 10

pickled grape leaves

olive oil

2

lemon quarters

2

pinches

ground sumac
Directions
For the swordfish
Heat the grill to hot. Sprinkle the swordfish steaks on both sides with salt and pepper. Layer 5 grape leaves so they're overlapping. Place a steak in the center of the leaves. Squeeze the juice of one lemon wedge over each steak. Roll up the leaves over the short ends of the steak, and then roll up one side of the leaves over long end of the steak. Flip the steak over lengthwise and wrap tightly with the remaining overlapping leaves. Repeat with the second steak. Grape leaves will keep the steak moist and add smoky flavor.

Brush the leaves lightly with olive oil. Place the wrapped swordfish on a hot grill, cooking about 4 to 5 minutes per side, being careful not to overcook.

Remove the swordfish from the grill and let rest 2 to 3 minutes, with the grape leaf wrapper still around the steaks. Grill the lemon quarters until lightly charred. Unwrap the grape leaves carefully and plate the swordfish. Drizzle with olive oil and sprinkle with sumac. Garnish with grilled lemon quarters.