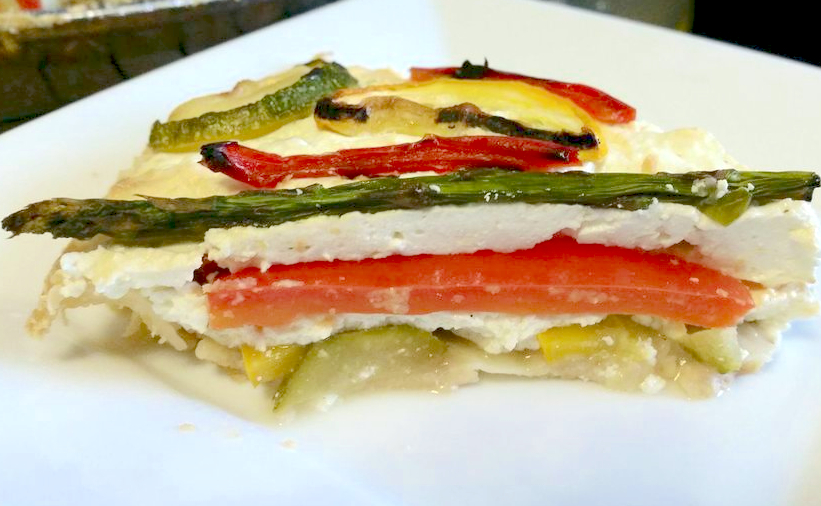 Sometimes when you go to the farmer's market in the summer, it gets the better of you. With so many awesome looking fresh vegetables at their peak, it's easy to over-purchase. But now you have more vegetables than you know what to do with. What can you make with ALL those veggies? Veggie pie. By grilling the veggies with some simple seasoning, you capture their peak-season flavor, and also impart that inimitable summer grill flavor.
Pair them with bright lemon-spiked ricotta cheese, and you have a pie that's light and summery, but also very satisfying. These are the excess vegetables I had from the market last weekend, but you can use almost any vegetables you want for this (as long as they're grillable).
Ingredients
Dough
8

tablespoons

butter, chilled in the fridge and cut into 8-10 pieces

1

cup

all purpose flour

1/2

teaspoon

table salt

1/4

cup

cold water
For Assembly
1

green zucchini, cut into 1/4-inch thick half moons

1

yellow zucchini, cut into 1/4-inch thick half moons

1

bunch

asparagus, fibrous ends removed

2

red bell peppers, top, bottom and core removed, then cut into large flat pieces

1

lemon

1/4

cup

chives or scallions, chopped

1

pound

ricotta
Directions
For the dough:
Mix the salt into the flour.
Press the butter pieces into the flour with your fingers until they're mostly worked in (a few small visible butter chunks left is actually good).
Add the water a bit at a time until your dough comes together and forms a ball (you may need slightly more or less water).
Wrap with plastic wrap and refrigerate for at least an hour.
Once chilled, roll the dough out on a lightly floured work surface, lay it into your pie pan and press it against all the edges, and then trim off the excess from around the edges.
For Assembly:
Take your pie crust and lay flat into your pie tin (feel free to use store-bought pie crusts to save some time if you want).
Bake at 350°F for about 30 minutes, or until golden-brown.
Season your vegetables with olive oil, salt and pepper, and then grill over high heat them until they're tender (grill pan or cast-iron skillet work as well in the absence of an outdoor grill).
Juice and zest the lemon, mix those into the ricotta, then fold in the chopped chives.
Start layering the vegetables and ricotta in the crust. I like to start with ricotta, then a layer of zucchini (both colors), ricotta, asparagus and peppers, ricotta again, and then topped with a little bit of everything for color.
Put into the oven again at 350°F for about 20 minutes, remove and let cool for at least 10 minutes before you slice in.
Find more pizza on Food Republic: