Grilled Steak Ramen Recipe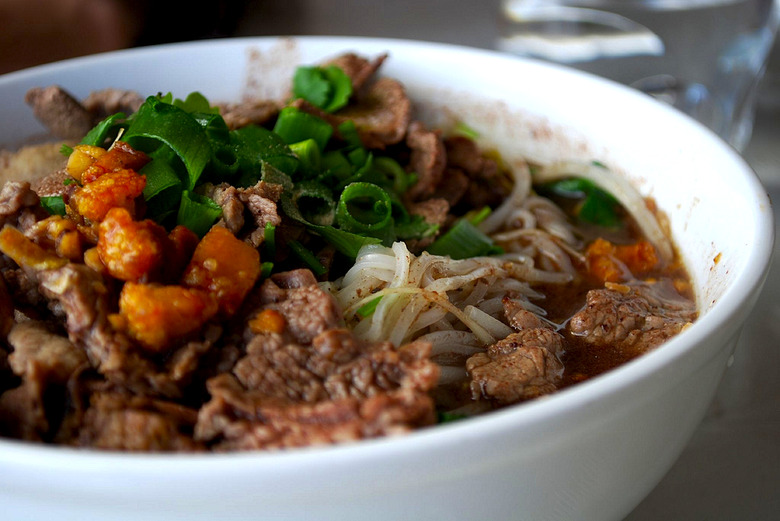 steak ramen
College kids in dorm rooms across the nation have been loving ramen's versatility for decades. You too can easily make the cheap package of noodles into a feast simply by adding a ton of veggies, or in this case, some beer-marinated steak.
The 7/20: If you have these items in your arsenal, recipes categorized by 7/20 can be made with 7 or fewer additional ingredients in only 20 minutes of active cooking time.
Grilled Steak Ramen Recipe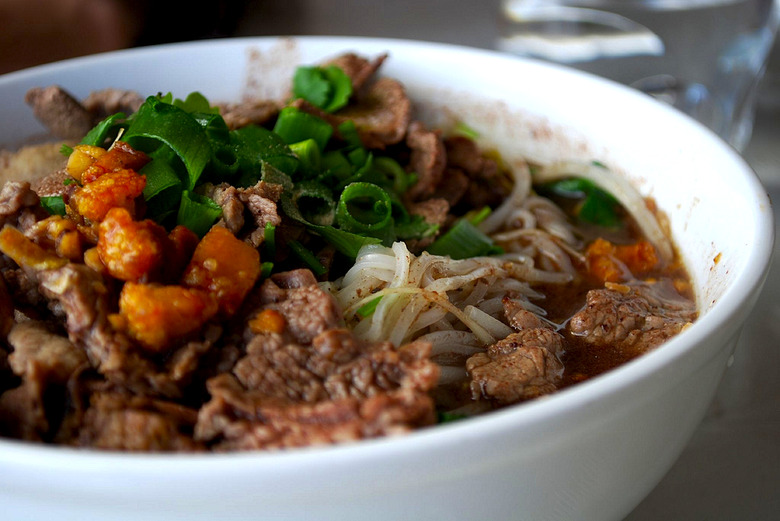 Ingredients
2 cups beer (we recommend a lager)
3 tablespoons soy sauce
1 tablespoon grated fresh ginger
1/2 cup canola oil
1 tablespoon chili flakes
6 tablespoons freshly squeezed lime juice
1 (2 pound) flank steak
3 (3 ounce) package ramen noodles
3 scallions
Directions
Combine the beer, soy sauce, ginger, oil, chili flakes, and lime juice in a zip-top bag. Add the steak, seal the bag, and turn to coat. Refrigerate for 4 to 8 hours, turning occasionally. Remove steak from refrigerator and bring to room temperature.  Reserve marinade.
In a small sauce pan bring the marinade to a boil, reduce by a quarter and reserve.
Heat the grill to medium-high.
Season the steak generously with salt and pepper. Place the steak on the grill and cook, turning once, until cooked to your desired liking. For rare (3 to 5 minutes per side for a 1 1/2-inch-thick steak) or medium rare (5 to 8 minutes per side for a 2-inch thick steak). Transfer to platter and let rest for at least 5 minutes. Then slice the steak against the grain into 1/4-inch-thick slices.
As the steak is resting, cook the ramen noodles according to the package instructions. Strain.
To serve, divide the steak and the noodles between four shallow soup bowls. Top each with a drizzle of the remaining heated marinade. Sprinkle each with sliced scallions.