Grilled Spring Onion Pizza Recipe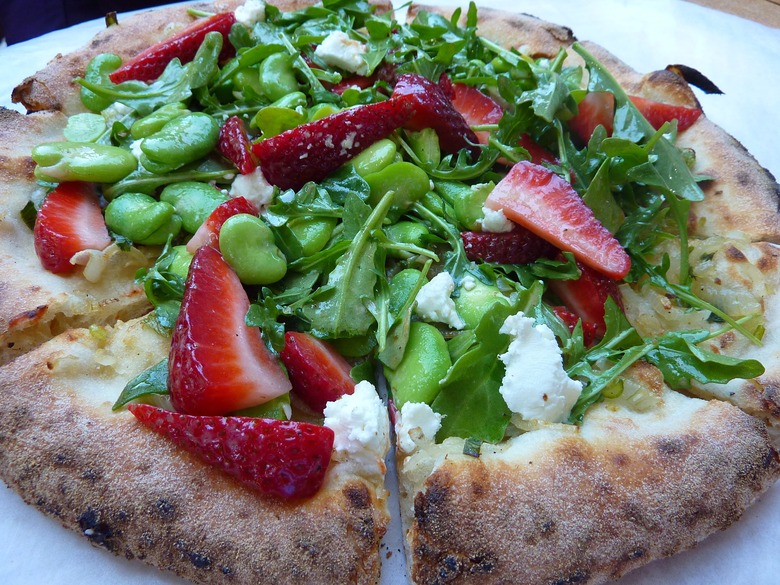 Executive chef Eric Lee of Simi Winery likes to create dishes that pair well with the vintages at the winery in idyllic Healdsburg, in Sonoma. This grilled pizza gets its sweetness from the strawberries and its bitter bite from the onions and arugula. It pairs well with the fruity and crisp Simi Sauvignon Blanc.
Grilled Spring Onion Pizza Recipe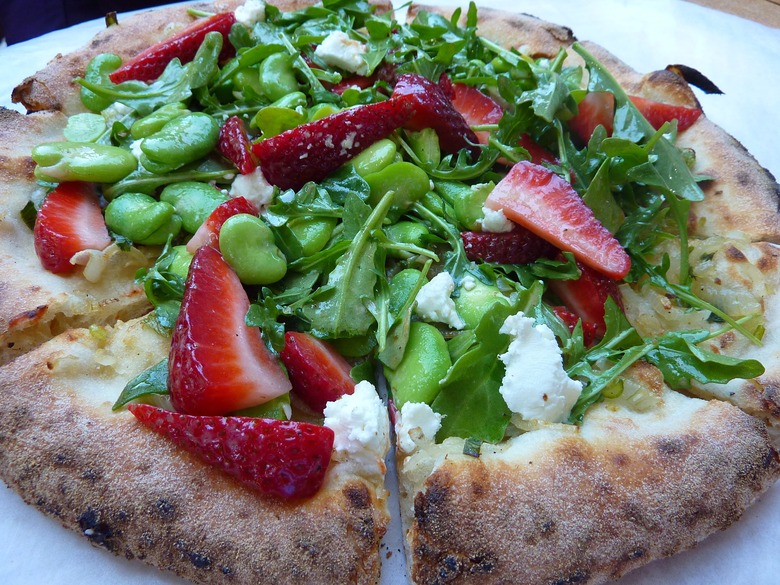 Ingredients
4 tablespoons olive oil
2 tablespoons butter
1 bunch spring onions
2 cloves garlic
1 pinch Salt and pepper
1 teaspoon Dijon mustard
1 ounce lavender infused vinegar
5 tablespoons extra virgin olive oil
1 pinch Salt and pepper
2 balls pizza dough
Spring onion puree
4-6 tablespoons Vinaigrette
1 basket ripe strawberries
2 ounces fresh baby arugula
3 ounces fresh goat cheese
1/3 cup fava beans
1 pinch freshly ground black pepper
Directions
In a small sauté pan over medium heat, heat the olive oil and butter.
Add the spring onions and garlic and cook, stirring occasionally until the onions are very soft. Let cool.
Make a vinagrette by placing the mustard and vinegar into a nonreactive bowl. While whisking constantly, slowly add the oil. Season with salt and pepper. Set aside.
Preheat your grill
Roll out the dough on a floured pizza peel to ¼ inch thickness.
Brush your dough with olive oil and place on the grill. Cook for 1 minutes until the bottom is slightly golden. Flip.
Spread on the spring onion puree to cover. Cook until the crust is nicely golden.
Toss the salad ingredients with the desired amount of vinaigrette. Place onto the pizza crusts and serve immediately.