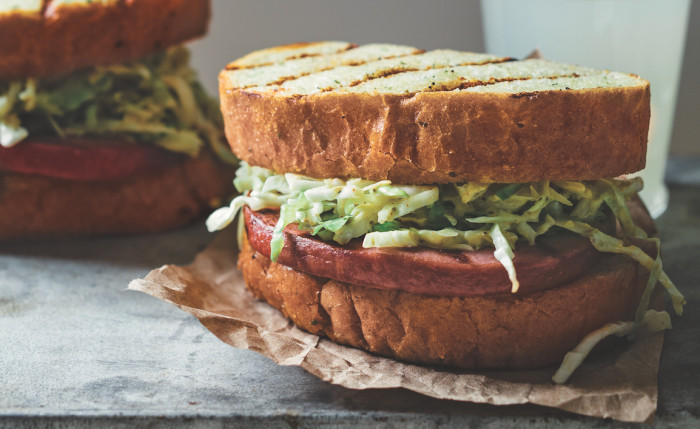 David Guas, host of Travel Channel's American Grilled, shares the recipes, tips and tricks he's learned during his years on the grilling trail in his new cookbook, Grill Nation. If he's got grilling advice, you'll definitely want to take it. Real bologna is no baloney. Toss that good stuff on the barbie. 
I grew up just a few blocks from the Bunny Bread factory in New Orleans. The irresistible smells of freshly baked bread filled the neighborhood, taunting me because white bread was strictly forbidden in my house. My bologna sandwiches — which I frequently traded at school lunch — were stacked on slices of fiber-rich whole wheat. Now I get to make my own rules, and sometimes I just want grilled bologna on extra-thick white bread.
Ingredients
1

head

green cabbage, quartered

3

tablespoons

extra-virgin olive oil

table salt

freshly ground black pepper

1/4

cup

mayonnaise

3

tablespoons

Yellow mustard

1/2

teaspoon

celery seeds

1/4

teaspoon

ground red pepper

1/2

cup

grated Vidalia onion

8 (1/2-inch-thick)

slices bologna

wood chips

16

slices

Texas toast

1/4

cup

unsalted butter, melted
Directions
For the sandwich
Light 1 side of charcoal grill or preheat gas grill to 350° to 400° (medium-high); leave other side unlit. Drizzle cabbage with oil and season with salt and pepper. Place cabbage, cut sides down, on cooking grate; grill, turning occasionally, 7 minutes or until grill marks appear on all cut edges. Using a serrated knife, thinly slice the cabbage.

Combine mayonnaise, mustard, celery seeds, and red pepper in a large bowl, and mix until smooth. Add onion and blend well; add sliced cabbage and blend until thoroughly coated with dressing. Season with salt and freshly ground black pepper; refrigerate until ready to use.

Place bologna slices on cooking grate on lit side of grill, and grill 2 to 3 minutes on each side or until grill marks appear. Sprinkle wood chips over lit charcoal. Move bologna slices to unlit side of grill; cover with grill lid, and smoke for 10 minutes.

Brush 1 side of each slice of bread with melted butter, and place on cooking grate on lit side of grill; grill 45 seconds to 1 minute or until grill marks appear. Remove from grill (do not toast other side). Place 1 bologna slice on untoasted side of each of 8 bread slices; top each with ½ cup slaw and another bread slice, toasted side up.