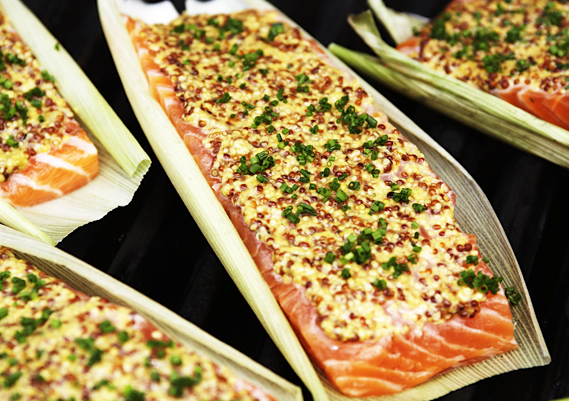 Nils Noren is the Vice President, Restaurant Operations for the Marcus Samuelsson Group (full disclosure: Samuelsson is a co-founder of Food Republic). This fall, Noren will release a cookbook in Swedish, 10 Techniques, 100 Recipes. Here, he gives us a sneak peek (albeit in English). Follow him on Twitter at @nilsnoren.
We may have all the tips for great grilled seafood in the world, but if your fillets are sticking to the barbie no matter how well you pre-heat or oil, Nils Noren has the easiest grilled fish hack you've never used. You've probably got access to corn since it's grilling season. Throw it on with this easy corn recipe, reserve the husks and watch your salmon come right off the grill with nary an errant flake (in other words, it won't stick but will still have that great smoky flavor).
"This is a great technique for grilling salmon, which can easily get burned and become dry. The fish gets the nice taste of the corn husks," says Noren.
Ingredients
4

large

corn husks, soaked in water for 30 minutes

4

fillets

salmon

4

tablespoons

whole-grain mustard

4

tablespoons

chives, finely chopped

pinch each of

salt and sugar, for each fillet

sugar
Directions
Let the corn husks drain on paper towels until just slightly damp.
Preheat grill to medium-low.
Rub a pinch each of salt and sugar on each salmon fillet's topside, then spread mustard evenly over each one and top with finely sliced chives.
Place a fillet on each corn husk, then place on the grill.
Grill on low heat until salmon is medium, or just opaque all the way through.
Serve on corn husks.
More seafood recipes on Food Republic: