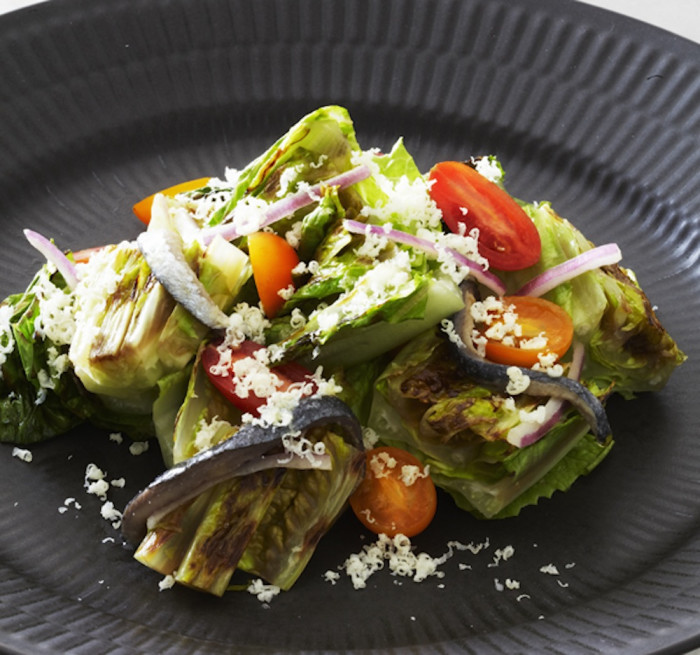 Nils Noren is the Vice President, Restaurant Operations for the Marcus Samuelsson Group (full disclosure: Samuelsson is a co-founder of Food Republic). This fall, Noren will release a cookbook in Swedish, 10 Techniques, 100 Recipes. Here, he gives us a sneak peek (albeit in English). Follow him on Twitter at @nilsnoren.
There's no vegetable that can't be grilled, though some take to the barbecue more readily than others. Lettuce's grilling potential is often overlooked because it's typically not cooked at all, but the slight wilt from a few minutes over high heat as well as the resulting smoky infusion make for a much more flavorful salad than leaves in a bowl.
Paired with simple ingredients like anchovies and red onion, this salad is sure to be a summer staple. Serve it with grilled fish or chicken for a light dinner.
Ingredients
1

head

romaine lettuce, cut in half

1/4

cup

red onion, julienned

10

grape tomatoes, cut in half

5

white

anchovy fillets, split

olive oil

sherry vinegar

Pecorino cheese, grated
Directions
Wash and clean romaine.
Place romaine on grill over high heat and place a heavy weight on top. Grill for approximately 3 minutes to achieve grill lines.
Cut lettuce into 2-inch chunks.
Plate with tomatoes, red onion slices, and anchovies.
Dress with olive oil and grated cheese.
Season with salt and pepper.