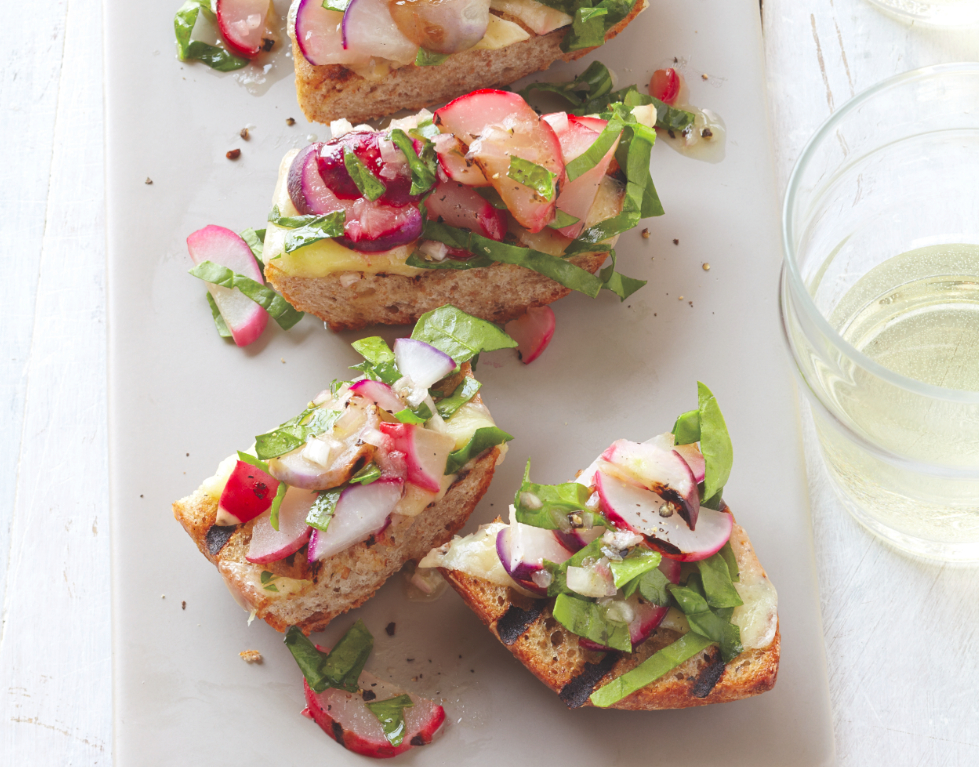 Ordinarily we'd pass the "quick and healthy" cookbook section in lieu of something with more cheese, but if you're going to cook light, better take a page out of Better Homes and Gardens. These grilled radish crostinis are as attractive to behold as they are delicious. 
Not so long ago, radishes were only eaten raw, on a salad or as a crunchy crudité. All kinds of creative ways have been discovered to coax out their naturally sweet flavor with heat by roasting, braising — and now grilling.
Reprinted with permission from The Ultimate Quick & Healthy Book
Ingredients
1

pound

radishes, cleaned and halved

3

tablespoons

olive oil

salt

ground black pepper

1/2

a 12-inch

whole grain baguette-style French bread, split horizontally

8

slices (4 ounces)

gruyere cheese

2

tablespoons

lemon juice

1

tablespoon

shallot, minced

1

teaspoon

honey

1/2

teaspoon

Dijon-style mustard

1

cup

fresh baby spinach, shredded
Directions
In a medium bowl, toss radishes with 1 tablespoon of the oil.
Sprinkle with salt and pepper.
Place radishes in a grill basket.
For a gas or charcoal grill, place grill basket directly over medium heat.
Cover and grill 8 to 10 minutes or until tender and lightly browned, turning radishes in the basket once or twice.
Add bread directly to the grill rack, cut side down, and grill 1 to 2 minutes over medium heat, or until toasted.
Turn and top toasted side of bread slices with cheese.
Cover and grill 1 to 2 minutes more or until melted.
Remove from grill; cover and keep warm.
Chop or slice radishes; set aside.
In a medium bowl combine remaining 2 tablespoons oil, the lemon juice, shallot, honey and mustard. Season to taste with salt and pepper.
Add spinach and radishes and toss to coat.
Place on top of crostini.
Cut crosswise and serve immediately.
Find more grilled vegetable recipes on Food Republic: