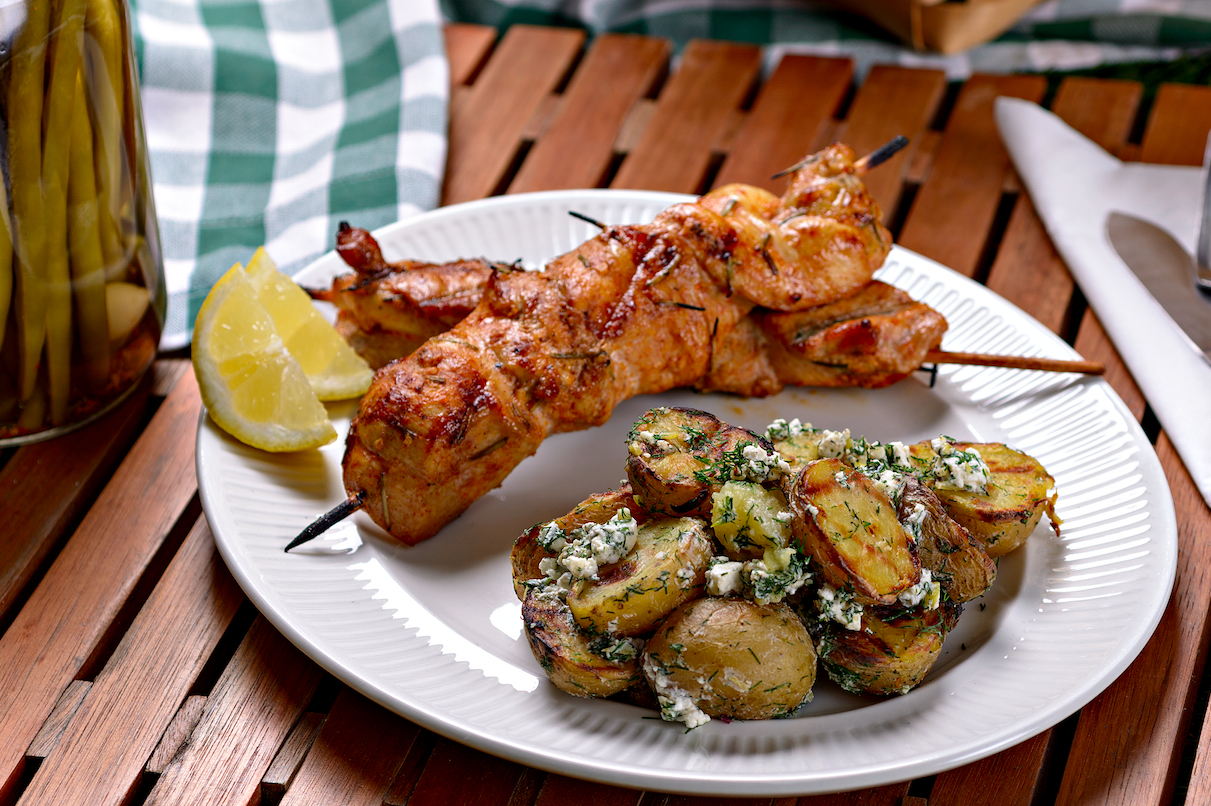 Nothing ruins a great picnic spread faster than terrible potato salad. You know the kind I'm talking about: overcooked potatoes choked with mayo, lacking acidity and salt and just kind of gratuitously there on the table like anyone invited them. This grilled potato salad with lemon, feta and dill is that potato salad's hot cousin from the big city.
I go heavy on the dill because the combination of dill, lemon and feta is extremely pleasing, particularly when something grilled is involved. In this case, it's the potatoes, which are boiled briefly before hitting the barbecue, where they finish cooking and develop nice smoky grill marks. When the potatoes are off the grill, toss on simple herb-marinated chicken, shrimp skewers or a steak to cook while you finish preparing the salad.
Ingredients
1

pound

small gold potatoes

1/4

pound feta

cheese, crumbled

2

tablespoons

extra-virgin olive oil

zest and juice of one

lemon

1/2

cup

dill, finely chopped

1

shallot

finely chopped

Kosher salt and freshly ground black pepper
Directions
Cover potatoes with water in a large pot, add plenty of salt and bring to a boil. Cook for about 10 minutes, then drain and allow potatoes to cool to room temperature. Meanwhile, preheat your grill to medium heat.
Slice potatoes in half, transfer to a large mixing bowl and toss with a tablespoon of the olive oil to coat lightly.
Grill the potatoes for 12-15 minutes with the lid closed, turning once halfway through. Remove from the grill and allow to cool to room temperature.
In a large bowl, whisk together olive oil, lemon juice, dill and shallots. Add the potatoes and toss to combine, then season to taste with salt and pepper.
Add the crumbled feta and toss gently to distribute.
Let sit for 20 minutes and serve.
More potato salad recipes on Food Republic: