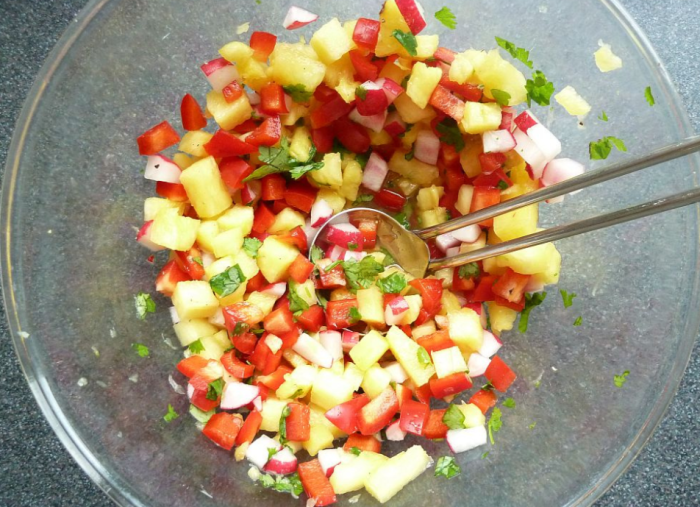 Executive Chef Kristi Ritchey of LA's Greenleaf Gourmet Chopshop loaned us her grilled pineapple salsa for all our summer dining needs. Well, most of them. You'll load this delicious creation on everything from barbecue fare to homemade tortilla chips.
I love the smoky sweet combo that pineapple has when you grill it, so when thinking of a new salsa to pair with a spicy shrimp appetizer, this grilled pineapple version came to mind. A few tips on the main ingredient:
When grilling the pineapple, it is important to char it because the more that you get it grilled, the more natural sweetness will come out. Don't be afraid to get some black char marks on there! When grilling the pineapple, you will know it's done and cooked through when you are able to put a knife or fork through it, but there is still a little resistance.
Ingredients
1

cup

grilled pineapple, diced

1/2

tablespoon

red onion, minced

1/2

teaspoon

red jalapeño, minced

1

teaspoon

cilantro, minced

1

teaspoon

green onion, minced

pineapple juice

Salt and pepper, to taste

agave, to taste
Directions
Combine all of the ingredients, including the reserve pineapple juice.
Season to taste with salt and pepper. Allow the flavors to marinate together.
If the salsa is too tart, add a splash of agave.
More salsa recipes on Food Republic: