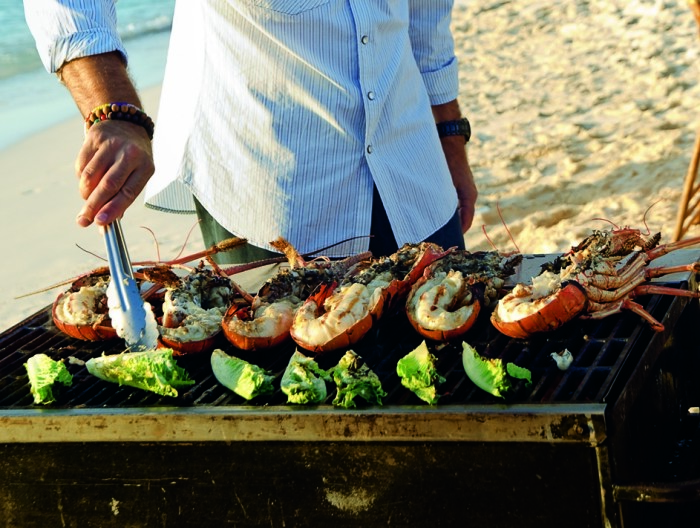 Spiny lobsters are impressive creatures. This warm-water cousin to Maine lobsters does not have any large claws but does have extremely long antennae. They are delicious grilled and easy to prepare. Feel free to substitute Maine lobsters if you are not lucky enough to obtain the spiny lobsters.
*Read through to the directions for wine pairings to make this spiny lobster experience complete!
Ingredients
1/2

cup

mixed fresh herbs, chopped, such as chervil, chives, mint, and Italian parsley

1/2

cup

extra virgin olive oil

1/4

cup

mango, diced, peeled, pitted, about 1/4-inch dice

1/4

cup

green papaya, diced, peeled, seeded, about 1/4-inch dice

1

tomato, peeled, seeded, and cut into 1/4-inch dice

1

tablespoon

capers, chopped

1

tablespoon

shallot, minced

2

teaspoons

fresh ginger, finely chopped

1/2

clove

garlic, minced

Fine sea salt and freshly ground black pepper

2

live large

spiny lobsters, or 4 Maine lobsters

1/4

cup

unsalted butter, softened
Directions
Combine the herbs, olive oil, mango, papaya, tomato, capers, shallot, ginger and garlic in a bowl. Season to taste with salt and pepper. Let this sauce vierge marinate until ready to serve, for at least 20 minutes.
Prepare the charcoal grill, letting the coals burn down to medium-high heat, 15 to 20 minutes.
While the grill is preheating, kill each lobster by plunging a large chef knife through the head, just above the eyes, making sure the knife goes all the way through the head. Then pull your knife in a downward motion through the eyes. The lobster is now dead. Cut the lobster evenly in half from head to tail. Remove the tomalley from the lobster bodies and, using scissors, remove the smaller legs.
Season the lobsters generously with salt and pepper and place them on the grill, shell sides down. Brush the lobsters with the butter and cook for 8 to 10 minutes, or until the meat just barely turns opaque.
Add the lime juice to the sauce vierge and adjust the seasoning.
Place the grilled lobsters on the center of 4 plates. Spoon the sauce vierge over the lobsters and serve immediately.
Wine Pairings:
Spiny Lobster comes from the warm waters of the Caribbean Sea and works well with tropical flavors like green papaya, mango, and ginger. Crisp, fruit- driven white wines are a great pairing with this dish. Try the Bontani Moscatel Seco or the Patz & Hall Chardonnay suggested here. Alternately, a big style of Sauvignon Blanc, a Torronetz from Argentina or a more fruit-forward Chardonnay without much oak, would also work well.
Botani, Moscatel Seco 2008. Sierra de Malaga, Spain
This wine is made from old-vine Muscat of Alexandria grapes, grown on the north-facing slopes of Almachar in the Sierras de Malaga. The wine is fermented 60% in stainless steel and 40% in oak barrels, although the oak is more used as a structural helper rather then the simple oak flavor. Dry Muscats are always great spring and summer wines because of the fragrant and delicate fruit flavor combined with the racy, crisp acid. You may find a lot of sweetness on the nose, but when you taste the wine there is very little sweetness—just enough to hold up to this pairing.
Patz & Hall, Chardonnay Hyde Vineyard 2007. Carneros, California
Chardonnay is very ease to handle in the vineyard and this is certainly a reason why wine makers look to Chardonnay, but also because it is the best selling varietal in America. For a while, people gave up on California Chardonnay because it is a varietal that takes many, many years of development and experimentation to produce a wonderful one. Now, because of many quality improvements and developmental changes, people are looking to California for expressive and fresher styles of Chardonnay while moving away form the creamy and bold styles.
The Patz & Hall winery has grown to be quite a well-respected brand and their Hyde Vineyard wines are especially nice.