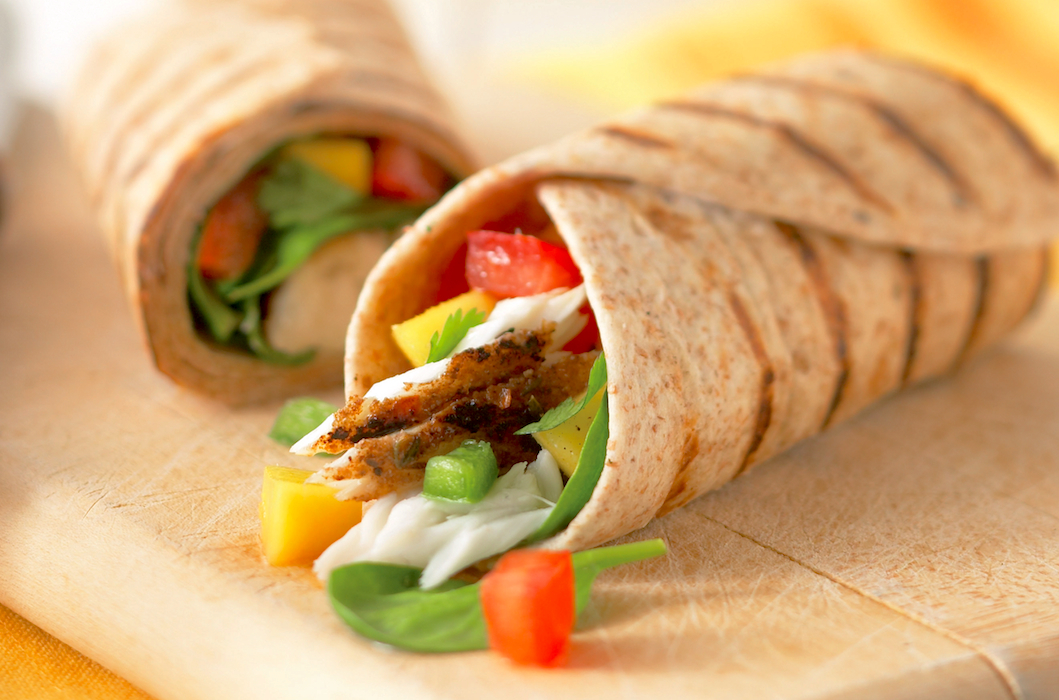 Ordinarily we'd pass the "quick and healthy" cookbook section in lieu of something with more cheese, but if you're going to cook light, better take a page out of Better Homes and Gardens. These grilled Jamaican jerk fish wraps are as attractive to behold as they are delicious.
Meaty white fish such as flounder, cod or sole provides a nearly blank slate for all kinds of seasonings and preparations, from mild to intense. Use any one in these spicy-sweet wraps.
Reprinted with permission from The Ultimate Quick & Healthy Book
Ingredients
1

pound

skinless flounder, fresh or frozen

1 1/2

teaspoons

Jamaican jerk seasoning

4

(7 to 8-inch)

whole grain flour tortillas

2

cups

fresh baby spinach

3/4

cup

tomato, chopped and seeded

3/4

cup

fresh mango or pineapple, chopped

2

tablespoons

fresh cilantro, snipped

1

tablespoon

fresh jalapeno chile pepper, finely chopped and seeded

1

tablespoon

lime juice
Directions
Thaw fish, if frozen.
Rinse fish; pat dry with paper towels.
Sprinkle jerk seasoning over both sides of each fish fillet; rub in with your fingers.
Measure thickness of fish.
For a charcoal or gas grill, place tortillas on the greased grill rack directly over medium heat.
Cover and grill for 1 minute or until bottoms of tortillas have grill marks. Remove from grill; set aside.
Place fish on the grill rack directly over medium heat.
Cover and grill for 4 to 6 minutes per 1/2-inch thickness or until fish flakes easily when tested with a fork, turning once halfway through grilling.
Remove fish from grill and coarsely flake the fish with a fork.
Meanwhile, in a medium bowl toss together spinach, tomato, mango, cilantro, jalapeño and lime juice.
To serve, place tortillas, grill mark sides down, on a flat work surface. Top each tortilla with some of the spinach mixture and flaked fish. Roll up tortilla and cut each in half.
Find more grilled fish recipes on Food Republic: