Grilled Fish Go-To: Peppered Ahi Tuna Recipe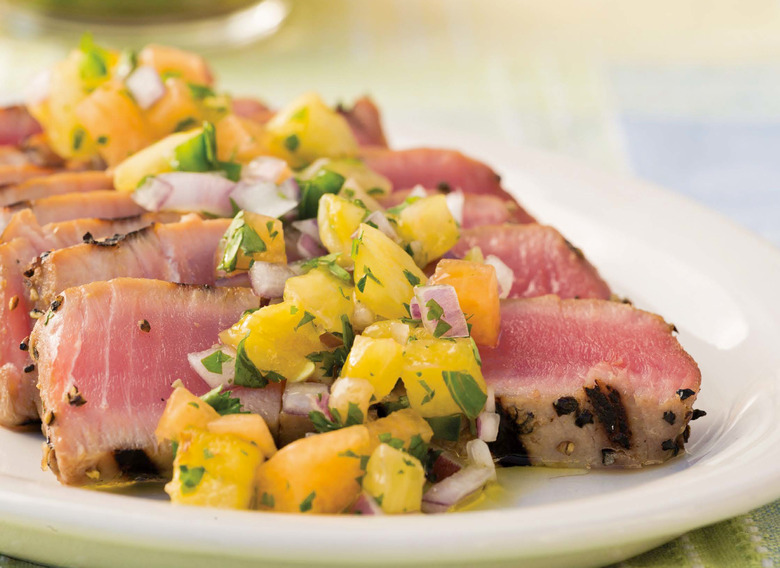 We may receive a commission on purchases made from links.
World champion pitmaster Chris Lilly makes us wish we lived in Alabama, where he heads the grill at Decatur's Big Bob Gibson's Bar-B-Cue. His new book, Fire and Smoke: A Pitmaster's Secrets is full of the knowledge you'll need to finish first in this season-long grilling contest. Yup, it's a contest. Win it with something really delicious, like this peppered ahi tuna.
Also see: All Chris Lilly Wants Is For You To Get Your Pork Temperature Right
The Hawaiian name for yellowfin tuna is ahi. You'll find it marked both ways in grocery stores. It is excellent for grilling directly over hot charcoal, giving it a quick sear and keeping the center rare. I created this recipe for a get-together at the American Royal Barbecue Contest in Kansas City. We were trying out the new Competition Briquets from Kingsford, and my good friend and Kingsford employee Drew McGowan wanted to bring the grills up to a very high searing temperature. Ahi tuna was the perfect match for the occasion.
A trick I often use for fish is to turn a simple dry rub blend into a oilbased seasoning paste, since the added oil helps keep the fish from drying out. The sweet cantaloupe and pineapple in the salsa nicely offset the high ratio of black pepper on the tuna. 
Grilled Fish Go-To: Peppered Ahi Tuna Recipe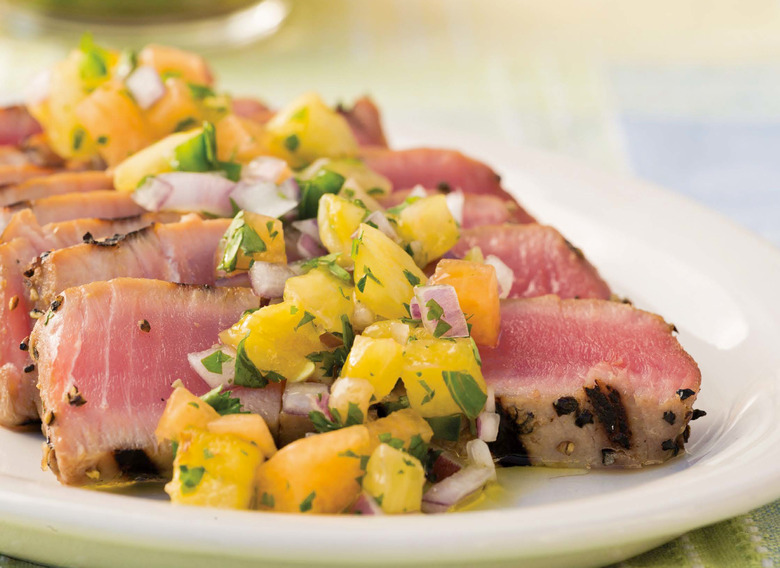 Ingredients
1 1/2 cups cantaloupe
1/2 cup red onion
1/2 cup pineapple
1/2 cup fresh cilantro
2 1/2 tablespoons fresh lime juice
2 teaspoons jalapeno pepper
salt
2 tablespoons extra virgin olive oil
2 tablespoons soy sauce
3/4 teaspoon cider vinegar
1/4 cup black pepper
2 tablespoons kosher salt
2 tablespoons dark brown sugar
1/4 teaspoon garlic salt
6 (3/4-inch to 1-inch thick) ahi tuna steaks
olive oil
Directions
In a medium bowl, combine the cantaloupe, onion, pineapple, cilantro, lime juice and jalapeño. Season with salt to taste.
The salsa can be served at room temperature or refrigerated until ready to use or up to 3 days in advance.
In a small bowl, combine the olive oil, soy sauce, vinegar, pepper, salt, brown sugar and garlic salt.
Coat the tuna steaks evenly with the pepper paste.
Wrap each steak in plastic wrap and refrigerate for 30 minutes.
Build a charcoal fire for direct grilling and open all dampers for maximum heat.
Preheat the grill to 500° to 600°F.
Lightly coat the grill grates with oil.
Remove the tuna steaks from the plastic wrap and place them over direct heat.
Grill on each side for 3 minutes or less, depending on how rare you like them. The tuna should be firm with pink in the middle.
To serve, slice the tuna into 1/4-inch-wide strips and top with a generous amount of salsa, or put the fish slices on a bed of salsa.
Olive Oil-Poached Tuna Provençal Recipe
Make Hawaiian Ahi Poke At Home!
Grilled Salt And Pepper Tuna Recipe