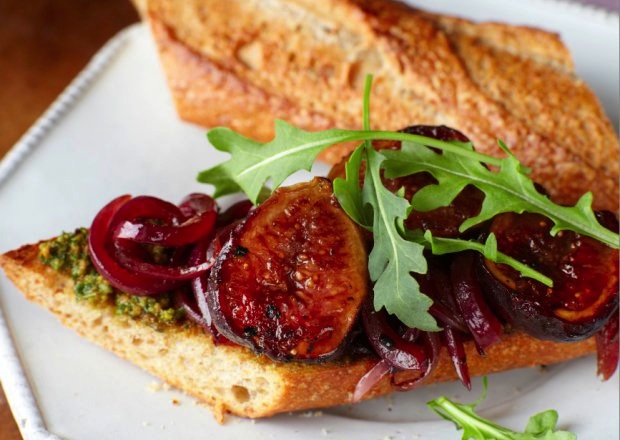 Earthbound Farm co-founder Myra Goodman, along with her daughter Marea, recently released Straight From The Earth, a cookbook of wholesome vegan recipes. If you're jumping on the veggie-loading bandwagon, this is a cookbook you'll need in your kitchen arsenal. Take this sweet and savory grilled fig sandwich for a spin come lunchtime. 
Wow! Just wow. This sandwich is an unbelievably tasty combination of warm crusty bread, savory pistachio pesto, rich caramelized onion, peppery arugula and sweet and savory grilled figs. I hope you enjoy this magical meal as much as I do. Although there are multiple components to this recipe, it doesn't take too much time to make. Save it for a day when you're craving something spectacular, and turn an ordinary day into an extraordinary one with your first bite.
Ingredients
Figs
1

tablespoon

extra virgin olive oil

1

tablespoon

balsamic vinegar

1/4

teaspoon

salt

1/4

teaspoon

freshly ground black pepper

2

cups

fresh Mission figs, stemmed and halved
Roasted Pistachio Pesto
3/4

cup

pistachios, toasted

1/2

cup

packed fresh basil

3

tablespoons

extra virgin olive oil or nut oil, such as walnut or pistachio

1

teaspoon

fresh lemon juice

salt

freshly ground black pepper
Balsamic Caramelized Onion
1

tablespoon

high-heat oil

1

large red onion, thinly sliced crosswise

2

tablespoons

balsamic vinegar

2

teaspoons

brown sugar

salt

freshly ground black pepper
Assembly
1

baguette, preferably whole wheat or multigrain, cut in four equal pieces, each split in half

high-heat oil, such as safflower

1 1/3

cups

packed baby arugula
Directions
For the figs:
Whisk together the olive oil, vinegar, salt and pepper in a medium bowl.
Add the figs and toss to thoroughly coat all surfaces. Set aside at room temperature while you prepare the other sandwich ingredients.
For the pesto: 
Combine the pistachios, basil, olive oil, lemon juice, 1/8 teaspoon of salt, 1/8 teaspoon of pepper and 1/4 cup of water in a food processor.
Process them to a coarse paste.
Season with additional salt and pepper. Set aside at room temperature.
For the onion:
Heat the high-heat oil in a medium saucepan over high heat.
Add the onion and vinegar and cook for 5 minutes, stirring frequently.
Add the sugar and season with salt and pepper. Reduce the heat to medium-low and continue to cook, stirring frequently, until the onion is soft and caramelized, 15 to 20 minutes.
Set aside at room temperature.
For assembly:
Position a rack in the middle of the oven and preheat it to 350°F.
Place the baguette pieces cut-side up directly on the oven rack. Toast until golden, about 5 minutes.
Meanwhile, heat a large grill pan or cast-iron skillet on medium-high heat.
Film the bottom of the skillet with a thin layer of high-heat oil.
Grill the figs, flat-side down, until they are browned and caramelized, 2 to 4 minutes. If the figs are large, flip them and cook on the skin side for another 2 minutes.
Using tongs, carefully transfer the figs to a plate.
Spread the cut surfaces of each baguette with about 2 teaspoons of the pesto.
Place one-fourth of the onion slices, 2 or 3 figs (or as many as will fit), and 1/3 cup of arugula on each baguette bottom.
Cover with the baguette tops and serve immediately.
Find more fig recipes on Food Republic: