Grilled Eggplant With Feta And Pomegranate Molasses Recipe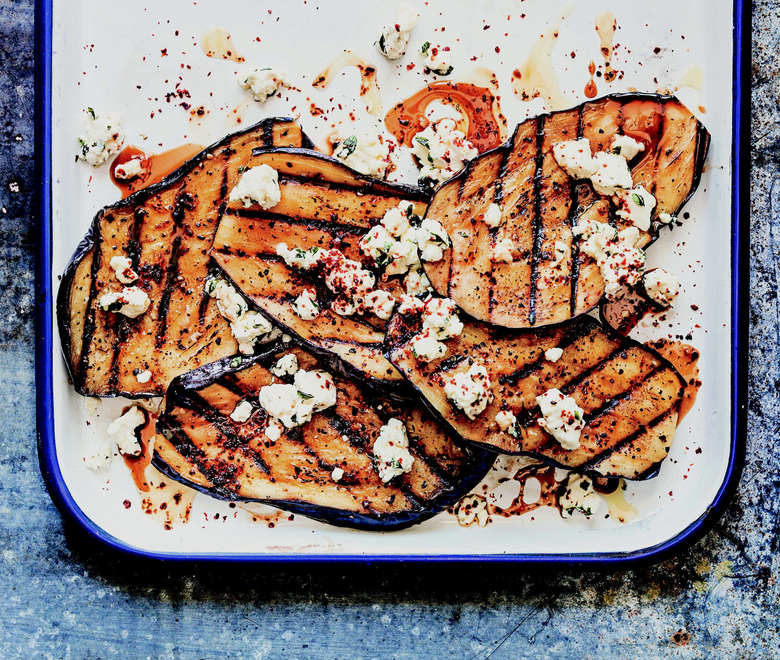 We may receive a commission on purchases made from links.
Chef Chris Schlesinger and Cook's Illustrated executive editor John Willoughby have combined their forces once more with their new cookbook, The Big-Flavor Grill. These truly simple and delicious recipes don't take a lot of time or effort, but are (as they say) big-flavor dishes. Try this easy grilled eggplant recipe on for size. 
Eggplant is big in Middle Eastern cuisines, so here we combine it with several of our favorite flavors from that part of the world. If you've never used them, Maras peppers and pomegranate molasses are both well worth searching out.
Grilled Eggplant With Feta And Pomegranate Molasses Recipe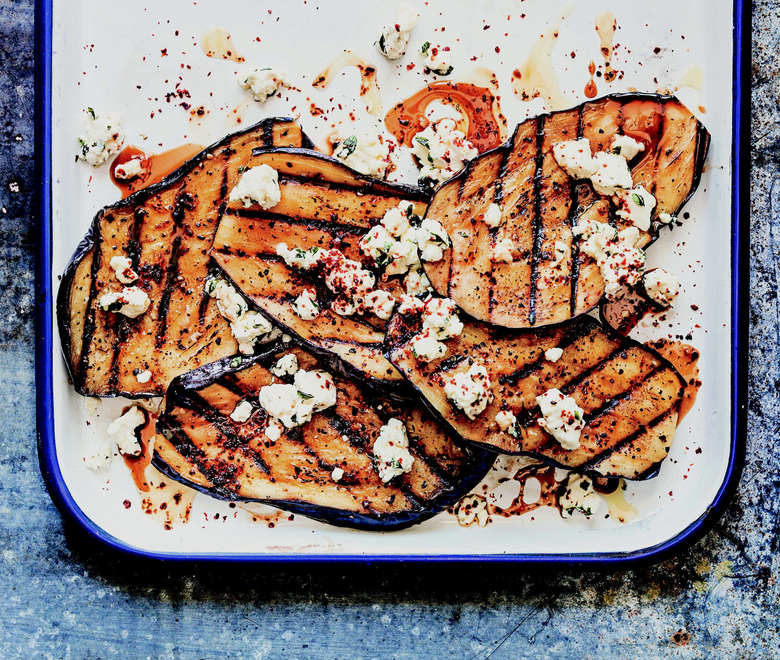 Ingredients
3 tablespoons extra virgin olive oil
2 tablespoons fresh thyme
1 tablespoon Maras pepper flakes
1/4 cup pomegranate molasses
1 large or 2 small eggplants
1/4 cup olive oil or vegetable oil
Kosher salt and freshly cracked black pepper
Directions
While the fire for your grill heats up, place the feta, extra virgin olive oil and thyme in a medium bowl and toss gently to combine.
Build a two-level fire in your grill, which means you put all the coals on one side of the grill and leave the other side free of coals. When the flames have died down, all the coals are covered with gray ash, and the temperature is medium (you can hold your hand 6 inches above the grill for 4 to 5 seconds), you're ready to cook.
Rub the eggplant planks on both sides with the 1/4 cup olive oil, sprinkle them generously with salt and pepper, and then put them on the grill directly over the coals and cook until golden brown on the outside and translucent all the way through, about 3 to 4 minutes per side.
30 seconds before the eggplant planks come off the grill, brush them with the pomegranate or regular molasses. Be careful not to overcook these, and try to maintain some rigidity, since the eggplant should not be floppy when cooked.
When the eggplant comes off the grill, put it on a platter and sprinkle evenly with the feta mixture and Maras pepper flakes.
Vegan Japanese Eggplant Dog Recipe
Roast Chicken And Grilled Eggplant Lasagna Recipe
Vegan Cookout: Summer Vegetable And Tofu Kebabs Recipe