Inner Beauty: The Publican's Grilled Duck Hearts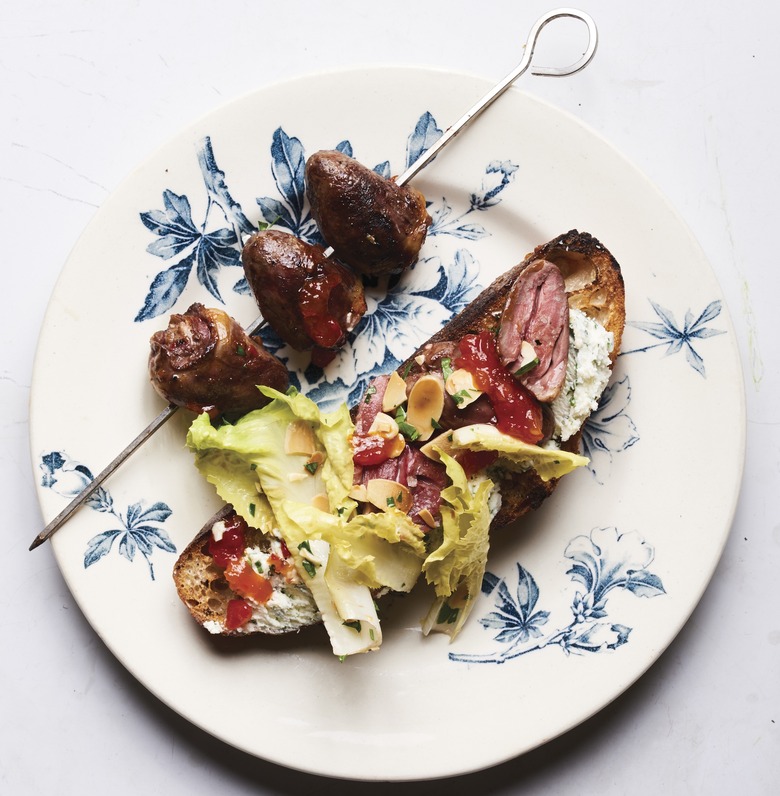 We may receive a commission on purchases made from links.
We're massive fans of award-winning Chicago chef Paul Kahan's new cookbook, Cheers to the Publican, out now. These grilled duck hearts with perfect accoutrements are (or will be) every dedicated carnivore's fantastical dream. 
When you're opening a restaurant, you want to use everything that's free. Blackbird had a freezer full of duck gizzards and hearts, so at The Publican we'd confit the gizzards and use them in a salad; and we'd grill the hearts, which are incredibly delicious. Now we get our hearts from a guy who Cosmo thinks sounds like Sebastian the crab from The Little Mermaid. ("Can I get some duck hearts?" "But of 'carse!") They're big, like plums, and they're a little sweet, a little roast beef-y and firm, but not too firm. We serve 'em with pepper jelly — because we love all peppers, from sweeter Jimmy Nardellos and Padróns, to hot Cherry Bombs — which is basically a simple syrup that we cook the peppers in and thin out with a little vinegar. You dunk the hearts then grill 'em, so they're sweet, sour and spicy.
Reprinted with permission from Cheers To The Publican, Repast And Present
Inner Beauty: The Publican's Grilled Duck Hearts
Straight from Chicago's The Publican, these grilled duck hearts with perfect accoutrements are (or will be) every dedicated carnivore's fantastical dream.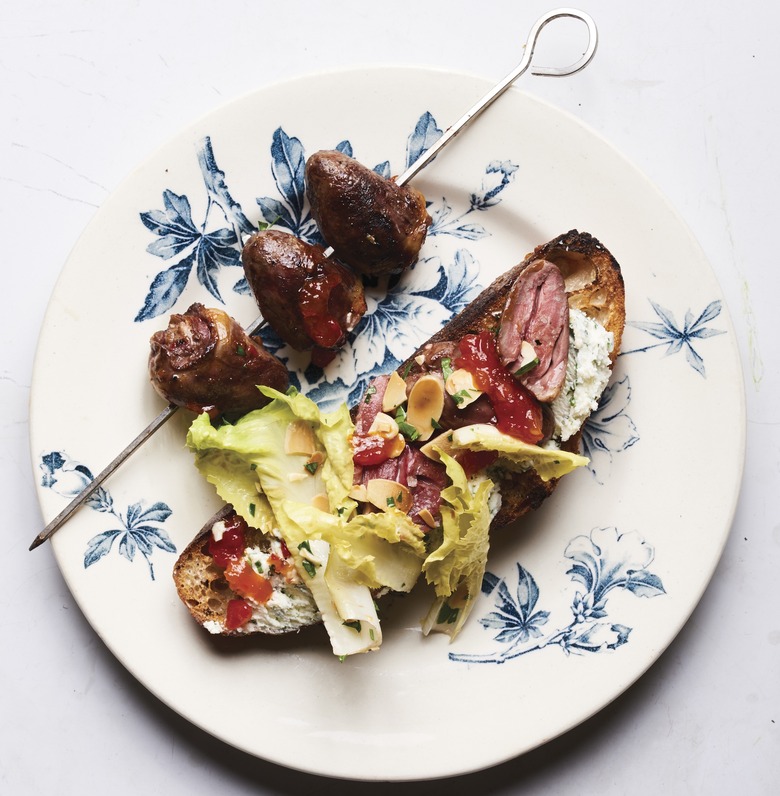 Ingredients
2 1/2 tablespoons salt
1 quart water
1 pound duck hearts
1 cup Pepper Jelly
4 pieces thick-cut sourdough bread
olive oil
1 cup Homemade Butter Cheese
1 head escarole
1/4 cup slivered red onion
2 tablespoons dill frond pieces
1/4 cup coarsely chopped marcona almonds
1 tablespoon olive oil
1 lemon
sea salt
1 cup sweet peppers
1/2 cup spicy peppers, such as hot cherry bomb, Fresnos, hot Hungarian, or habanero peppers
1/2 red onion
3/4 cup distilled white vinegar
3 cups granulated sugar
3 tablespoons plus 2 teaspoons powdered pectin
2 1/2 cups cream cheese
1/4 cup half-and-half
1 clove garlic
1 shallot
1/2 teaspoon red pepper flakes
1 cup grated Parmesan
1/4 cup minced dill
2 teaspoons fresh thyme leaves
8 basil leaves
1 lemon
3 tablespoons unsalted butter
sea salt
freshly ground black pepper
Directions
:::butter cheese:::
In a food processor fitted with the steel blade, whip the cream cheese with the half-and- half until smooth. Add the garlic, shallot, and red pepper flakes and pulse until fully incorporated.
Transfer the mixture to a medium bowl and fold in the Parmesan, dill, thyme, basil, and lemon zest. Whisk in the butter and season with pepper and a squeeze of lemon juice. Taste and adjust the seasoning, as desired. The Parmesan will most likely give it all the salt it needs.
Cover and store the cheese spread in the fridge for up to 1 week.
:::jelly:::
In a wide, shallow saucepot over medium-low heat, add the peppers and onion and stir constantly with a wooden spoon until they're tender and the onion starts turning translucent.
Add the vinegar, sugar, and pectin and continue stirring until the sugar has completely dissolved. Taste the jelly — it should be sweet with a great, rich heat. Remove from the heat and set aside to cool slightly. Transfer to a nonreactive container and let it cool completely. Cover with a lid and store in the fridge for up to 3 months.
:::hearts and salad:::
In a large bowl, combine the salt with the water and stir until the salt dissolves. Add the hearts and let them sit in the fridge for 1 hour.
Drain the hearts, pat them dry, and season them with salt. Get a grill or grill pan nice and hot. Sear the hearts over high heat. Cook for 2 to 3 minutes, turning occasionally.
Set aside 2 tablespoons of the pepper jelly for finishing the toasts. Dunk the hearts in the remaining pepper jelly and return them to the grill. Cook for another 2 minutes; the sugars in the jelly will start to caramelize. Remove the hearts from the grill and let them rest.
Spoon olive oil onto the bread, spreading it with the back of a spoon, and then grill the bread on both sides until golden brown and toasty. Evenly spread the butter cheese over the bread and cut each slice in half. Set aside.
To make the salad: In a medium bowl, combine the escarole, onion, dill, and almonds. Toss with olive oil, lemon juice, and a pinch of salt. Taste and adjust the seasoning, if desired.
Cut the duck hearts in half and arrange them over the cut bread. Spread the salad over the top, drizzle the salad with a bit of the leftover pepper jelly, and serve.