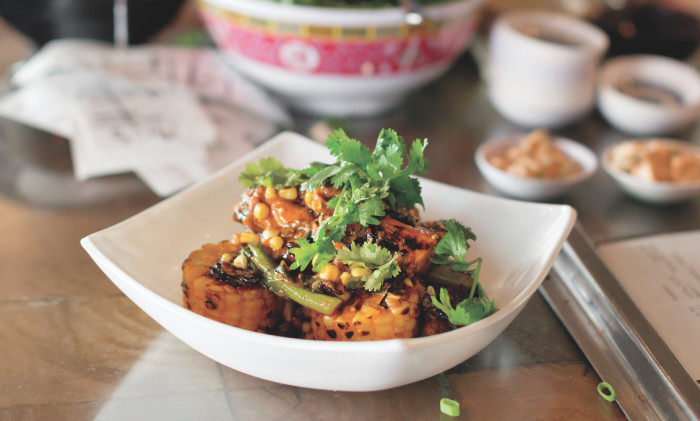 Joanne Chang, mastermind behind Boston's much-loved Myers + Chang, has a new collection of recipes out that will stoke your fire for modern Taiwanese food like you've never imagined. This grilled corn with sriracha butter is a hot reminder that corn's in season all summer long.
We originally only made this corn as component of a popular dish, wok-charred octopus with sriracha grilled corn. One of our favorite regulars, David, would order just the sriracha sauce that we toss the octopus and corn with. At one point he asked if we would bottle the sauce for him so that he could pour it on everything at home. "But David, it's just butter and sriracha and scallions!" He didn't believe us, so here's the proof. We love to grill the corn with the husk off, so that the sweet kernels pop and char and then slather it with this spicy delicious butter. It is summer personified. This recipe makes six ears of corn, but we have found that it only serves two or three people because no one can eat just one ear.
Ingredients
1/2

cup

unsalted butter, cubed, at room temperature

5

tablespoons

Sriracha

3

teaspoons

kosher salt

6

ears

corn (we like bicolor or Silver Queen)

2

tablespoons

extra-virgin olive oil

1/2

teaspoon

freshly ground black pepper

2

scallions, white and green parts finely chopped (about 1/4 cup)
Directions
For the corn
In a medium bowl using a wooden spoon or in the bowl of a stand mixer fitted with the paddle attachment, beat the butter with the sriracha and 2 teaspoons of the salt like your life depends on it. The butter should be completely orange with no yellow spots and have a whipped texture. Set aside. If you have a grill, preheat the grill.

Shuck the ears of corn and place them on a plate or baking sheet. Drizzle with the olive oil and season with the remaining 1 teaspoon salt and the pepper, rolling the corn around until evenly covered. Place the corn directly on the grill over medium-high heat. If you don't have a grill, cook the corn in a large flat-bottomed skillet on the stove over medium-high heat. Turn the corn every minute or so until you start to see it pick up some color and char and all the ears are grilled evenly, 12 to 15 minutes.

Remove the corn from the grill, cut the ears in half, and roll them around in the butter. Place them on a serving platter, sprinkle the scallions evenly over the corn, and dig in.