Grilled Corn And Quinoa Salad Recipe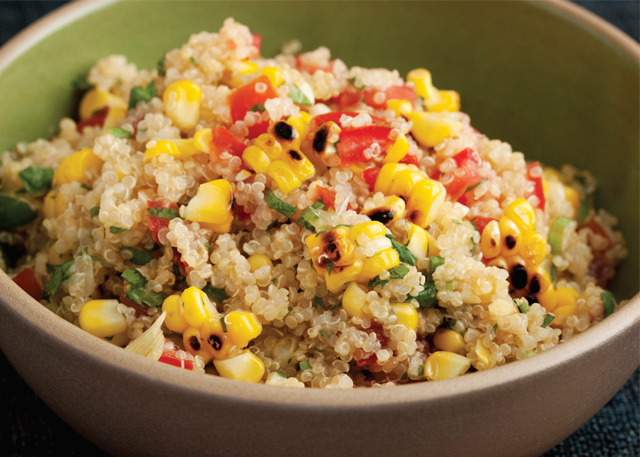 This is one vegetarian side that everyone can enjoy.
Quinoa has been a staple grain in Peru for centuries, and increasingly, a base for some intriguing recipes. Highly nutritious, it is a complete protein that is high in iron and fiber, and it has a very mild flavor that complements anything it is paired with. And, when you consider that it cooks in only 15 minutes, you understand why it's called the "gold of the Incas."
Grilled Corn And Quinoa Salad Recipe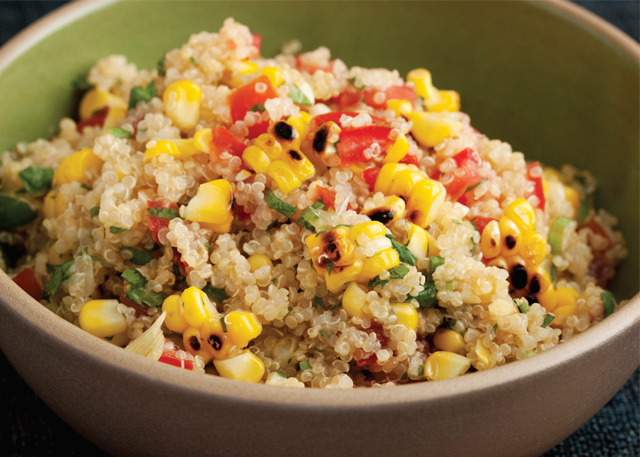 Ingredients
5 ears corn
4 green onions
2 cups quinoa
3 1/4 cups water
salt
4 plum tomatoes
1 cup lightly packed cilantro leaves and tender stems
juice of 3 limes (about 1/4 cup)
2 tablespoons olive oil
black pepper
Directions
Place the corn in a large stockpot, or other container large enough to hold all the ears, and fill it with water. If you do not have a sufficiently large container, use your kitchen sink.
Allow the corn to soak for 20 minutes. Remove from the water, shake, and tightly squeeze the husks against the kernels of corn to get rid of any excess water.
Heat your grill to high (550F) and close the lid. Wait at least 15 minutes before lowering the heat to medium-high (450F) and continuing. (Or see Cooking Notes for instructions on roasting the corn in an oven.)
Place the corn on the grill rack, close the lid, and grill for 5 minutes. Turn the corn over and grill for another 5 minutes with the lid closed. Remove from the grill and let rest for 5 more minutes.
Take the grilled ears of corn and pull back the husks, exposing the kernels. Do not remove the husks. If possible, tie the husks back (see Cooking Notes).
Increase the grill temperature to high (550F). Place a sheet of aluminum foil on one side of the hot grill. Place the pulled-back husks over the foil, allowing the exposed kernels to sit on the grill grates. (This is done so the husks don't burn before the corn can char.) Close the grill lid and allow the kernels to char for about 5 minutes per side, or until they become dark and golden brown on all sides. 
At this point, add the green onions to the grill and char on all sides, about 8 minutes total. Remove the corn and green onions from the grill and set aside.
Quinoa should always be rinsed well under cold running water before it's cooked; otherwise it will have a rather bitter taste.
Package instructions for preparing quinoa state that you should use 2 cups of liquid to 1 cup of quinoa. I find this ratio results in a soggy texture that does not work well in a grain salad. Therefore, this recipe uses a proportion of approximately 11/2 cups of liquid to 1 cup of grain in order to end up with a grain that will stay intact when tossed with the vinaigrette and vegetables.