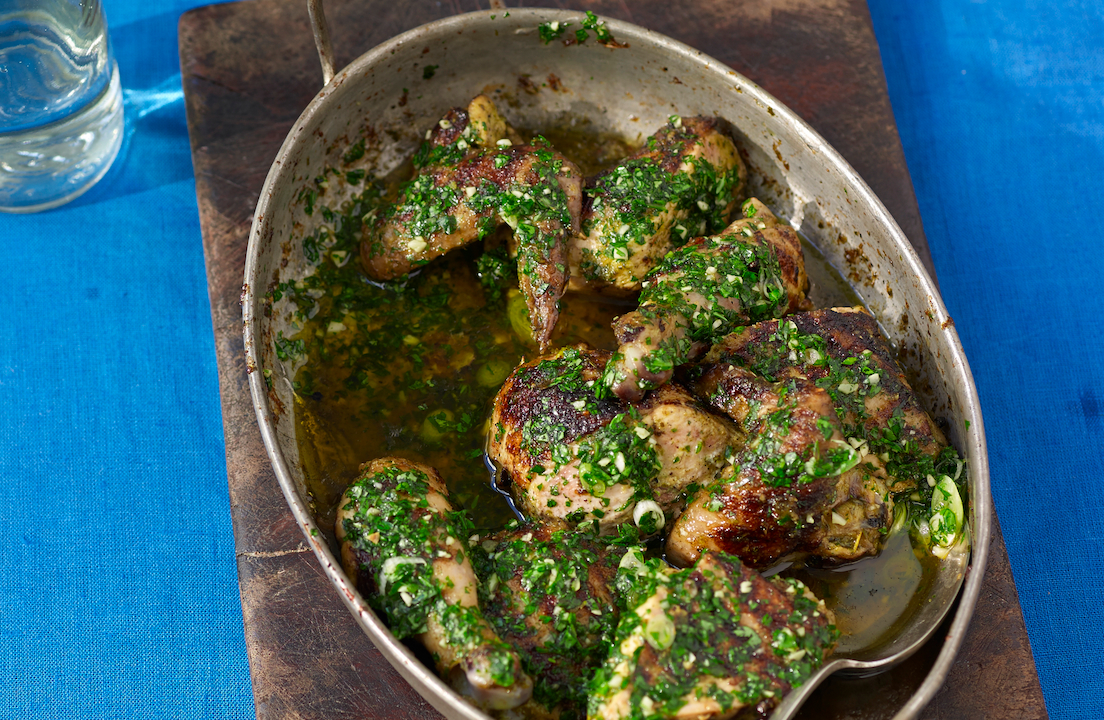 It's hard not to love Caribbean food with its diverse roots, flavors and techniques. It's also not hard to make at home, thanks to Caribbean Potluck, a new cookbook from chefs Michelle and Suzanne Rousseau. Recreate favorite recipes from their childhood, restaurants and renowned catered parties. Start simple with this easy, flavor-packed chicken and salsa seasoned with hot peppers and fresh herbs. Here, the chefs explain one of their favorite dishes.
This has to be our best-loved chicken dish. The well-seasoned chicken also gets a "post-cooking" marinade; it is tossed in a bit of West Indian salsa verde and put in the oven for a few minutes so the salsa verde flavors can be absorbed into the chicken. The combo of the chargrill, the island seasonings and the kick of the West Indian salsa verde is truly unforgettable.
Ingredients
1/4

cup

olive oil

1

bunch

scallions, sliced

8

cloves

garlic

2

tablespoons

fresh ginger, peeled and grated

1

bunch

fresh thyme

1

bunch

fresh cilantro

1/2

Scotch bonnet, seeded and minced

1/4

cup

fresh lime juice (from about 6 limes)

sea salt and freshly ground black pepper

4

pounds

mixed chicken parts
West Indian Salsa Verde
1

cup

fresh parsley, chopped

1/3

cup

fresh chadon beni (culantro) or cilantro, chopped

1

tablespoon

garlic, roughly chopped

1/2

cup

scallions, chopped

1

bunch

fresh thyme, chopped

1 1/2

cups

olive oil

1/2

cup

water

6

tablespoons

fresh lime juice (from about 8 limes)

2

teaspoons

lime zest, cut in half and seeded

1

Scotch bonnet, cut in half and seeded

1

tablespoon

sea salt

1

tablespoon

fresh ginger, peeled and chopped
Directions
In a blender, combine the oil, scallions, garlic, ginger, thyme, cilantro, Scotch bonnet, lime juice and salt and pepper and puree.
Transfer to a baking dish or resealable plastic bag and add the chicken, tossing to coat.
Marinate in the refrigerator for 12 hours or overnight.
Preheat the oven to 350°F.
To make the spicy West Indian salsa verde, in a food processor or blender, combine the parsley, chadon beni, garlic, scallions, thyme, oil, water, lime juice, lime zest, Scotch bonnet, salt and ginger. Blend well. (This recipe makes about 2 1/2 cups.)
Heat a grill or grill pan to medium-high heat.
Grill the chicken for about 10 minutes per side, turning once, until the outside is charred.
Transfer the chicken to a baking dish and toss with the salsa verde, saving some for garnish.
Bake for 10 to 15 minutes, until the chicken is cooked through and an instant-read thermometer registers 165°F.
Transfer the chicken to a platter, drizzle with more salsa verde and serve.
Find more global grilled chicken on Food Republic: