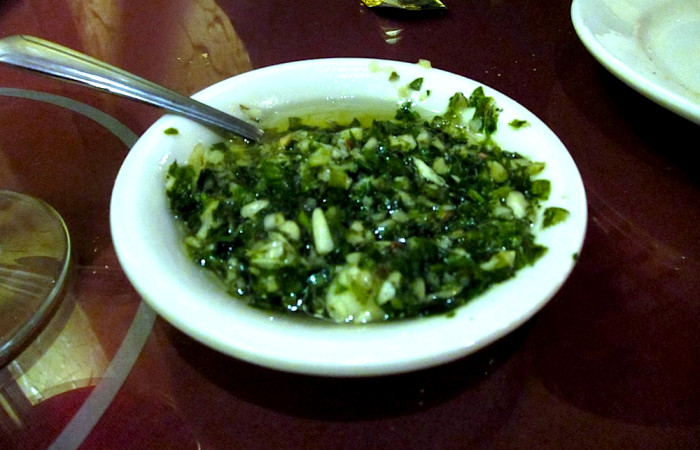 We're using this chimichurri recipe with chicken, but this traditional combo of fresh herbs and garlic add vibrancy to beef, fish, and even a simple tomato-cucumber salad. If you've ever been to Buenos Aires or an Argentinian steakhouse, you'll know it as the delicious topper for grilled skirt steak (and we highly recommend using this chimichurri recipe with our steak recipe as well). Be careful, though — chimichurri packs a punch, so start with just a drizzle.
The 7/20: If you have these items in your arsenal, recipes categorized by 7/20 can be made with 7 or fewer additional ingredients in only 20 minutes of active cooking time.
Ingredients
Chimichurri Sauce
1/2

cup

olive oil

4

cloves

garlic, peeled

3

tablespoons

red wine vinegar

2

tablespoons

fresh oregano

1

cup

fresh parsley
Grilled Chicken
1

pound (4 individual breast)

chicken breast

vegetable oil, for prepping grill and oiling chicken

Salt and pepper, for seasoning
Directions
Grilled Chicken
Preheat the grill to medium-high.
Season chicken breast with salt and pepper and oil.
Place chicken breast on the grill and cook for 6 to 7 minutes on each side and until it is no longer pink where you separate the tenderloin from the breast meat. While the chicken is cooking assemble the sauce.
Chimichurri Sauce
In the bowl of a food processor, combine all of the ingredients and buzz until smooth. Serve alongside or on top of your grilled chicken.
This sauce can be made ahead of time and stored, covered, and chilled for up to 2 weeks. You can also freeze for up to one month. This sauce can also be used as a marinade for chicken, steaks, or pork chops.