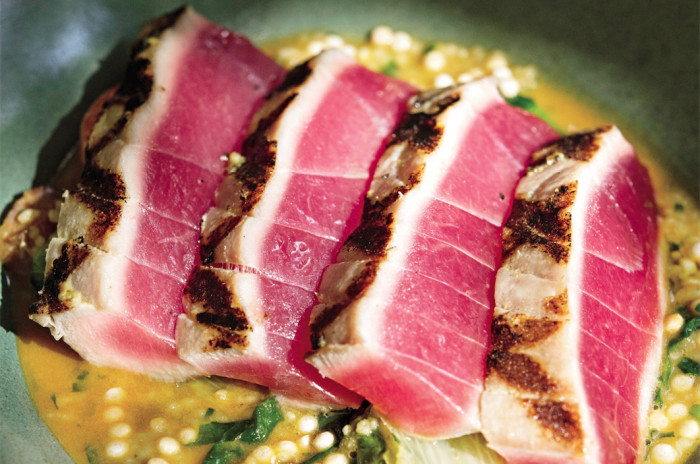 What's the only thing better that a cookbook by an awesome chef? A notebook by an awesome chef like Harold Dieterle, Top Chef season 1 winner and chef-owner of popular NYC restaurants Kin Shop, the Marrow and Perilla. Pick up a copy of Harold Dieterle's Kitchen Notebook, a collection of recipes influenced by Italian, Thai, German and other world cuisines. We've never been more excited to see all these cultures in one delicious place.
Tuna is one of the meatier fish around, which facilitates pairing it with similarly meaty accompaniments, such as the ragù here, which combines slightly spicy merguez sausage with escarole, garlic and herbs. Bigeye tuna has a higher fat content than yellowfin and isn't overfished like bluefin. It's available from midsummer to early fall — the perfect time to make and enjoy this dish.
Reprinted with permission from Harold Dieterle's Kitchen Notebook
Ingredients
kosher salt

1/2

cup

Israeli couscous

1/4

cup plus 1 tablespoon

extra-virgin olive oil

1

pound

merguez sausage, removed from its casing

1/4

cup

minced garlic

1

tablespoon

minced shallot

1

quart

coarsely chopped escarole

1

cup

shellfish stock, preferably homemade

5

tablespoons

unsalted butter, cut into cubes

1

tablespoon

thinly sliced basil

1

tablespoon

thinly sliced flat-leaf parsley leaves

1

tablespoon

minced chives

freshly ground white pepper

1/4

cup

Dijon mustard

2

tablespoons

Colman's mustard powder

2

tablespoons

thinly sliced cliantro

4

Bigeye tuna fillets, about 6 ounces each

Maldon sea salt
Directions
For the escarole and couscous ragù
Fill a medium pot halfway with salted water, bring to a boil over high heat, and add the Israeli couscous. Cook until al dente, about 10 minutes. Drain and set aside.

Heat 1 tablespoon of the oil in a large, deep sauté pan over medium heat. When the oil is shimmering, add the sausage and cook, stirring periodically, until it is cooked through and has rendered enough fat to coat the bottom of the pan, about 5 minutes. Add 2 tablespoons of the garlic and the shallot and cook without browning, stirring, for 1 minute.

Stir in the escarole and cook until slightly wilted, about 2 minutes. Pour in the stock, stir in the couscous, and cook for 3 minutes. Add the butter, a few pieces at a time, stirring until incorporated and emulsified.

Once all the butter is added, stir in the basil, parsley, and chives and season with salt and pepper. The ragù should be thick enough to coat the back of a spoon; if it is too thin, continue to cook, stirring, until the proper consistency is achieved. Remove the pan from the heat and set aside, covered, to keep the ragù warm.
For the tuna
Heat a grill to high, or heat a grill pan over high heat for 5 minutes. Put the Dijon mustard, mustard powder, remaining 2 tablespoons garlic, and the cilantro in a medium bowl and whisk together. Continue whisking, slowly adding the remaining ¼ cup oil in a thin stream to make an emulsified marinade.

Season the tuna with salt and pepper and brush the marinade on both sides of the fillets. Grill the tuna until rare, about 2 minutes per side. Transfer to a cutting board, allow it to rest for 2 to 3 minutes, then cut each piece crosswise into 4 slices.

To serve, divide the ragù among 4 serving bowls, top each with 4 tuna slices, and season the tuna with sea salt.