Grilled Bass With Sour Tomato Broth Recipe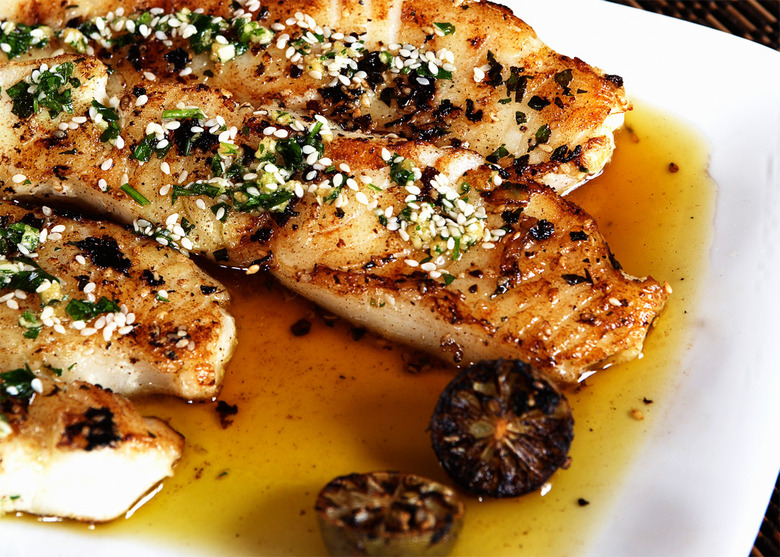 It's Good Friday, which means that Catholics turn to fish, since meat is verboten today. We asked Food Republic co-founder Marcus Samuelsson for a grilled bass recipe that would make for an excellent feast to kick off Easter weekend, and here's what we got.
Most people know Japanese food for its sushi, Kobe beef, and ramen noodles, but just as deserving of international attention is the Japanese approach to grilling fish, which is refreshing in its simplicity. Rub it with miso and grill it over low heat. Here, I take a page from Japanese cooks and rub bass fillets with just a little bit of sesame and miso, quickly grill them, and serve them with a sour tomato broth to support the fish's dense, firm texture and meaty flavor.
Grilled Bass With Sour Tomato Broth Recipe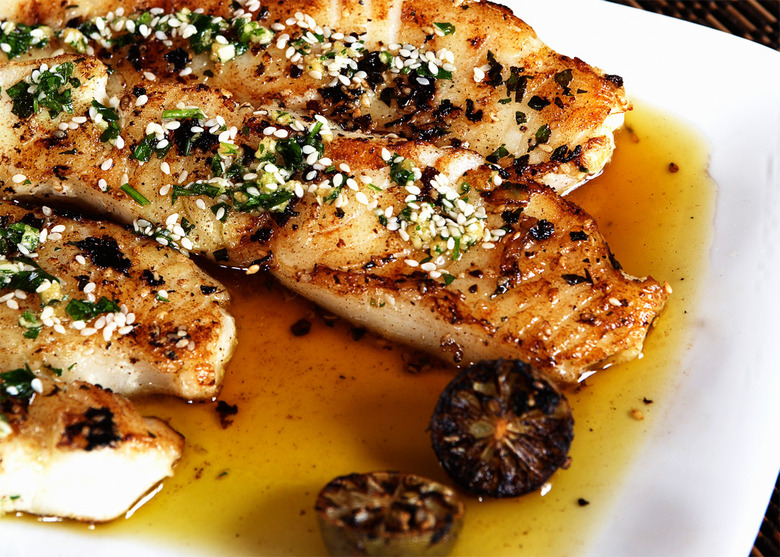 Ingredients
2 teaspoons sesame seeds
2 tablespoons cilantro
2 tablespoons olive oil
2 teaspoons toasted sesame oil
2 cloves garlic
1 tablespoon white miso
4 (5-ounce) bass fillets
Sour Tomato Broth
4 plum tomatoes
2 tablespoons canola oil
1 (3-inch) piece ginger
2 cloves garlic
2 bird's-eye chiles
2 whitefish bones
3 tablespoons fish sauce
2 leaves kaffir lime
2 teaspoons tamarind paste
1 cup dry white wine
2 limes
2 baby bok choy
2 scallions
salt
Directions
Heat a grill pan over high heat.
Toss together the sesame seeds and cilantro in a small bowl. Set aside.
Combine the olive oil, sesame oil, garlic, and miso in a small bowl. Brush the mixture on both sides of the bass. Season with salt and pepper. Arrange the bass on the grill and grill for 3 minutes on each side.
Remove the bass from the grill and sprinkle the sesame seed mixture evenly on top of the fish. Serve with the sour tomato broth.
Preheat the oven to 250°F.
Arrange the tomatoes on a shallow baking sheet and roast until shriveled, 50 to 60 minutes.
While the tomatoes are roasting, heat the canola oil in a large pot over medium heat. Add the ginger, garlic, and chiles and sauté until fragrant, about 5 minutes. Add the fish bones, fish sauce, lime leaves, tamarind paste, and 3 cups water. Bring to a simmer and cook for 10 minutes. Add the white wine and simmer for another 10 minutes.
Strain the liquid into another pot and add the lime juice and bok choy. Bring to a simmer over medium heat and cook until the bok choy is cooked through, 2 to 3 minutes. Stir in the roasted tomatoes and scallions. Season with salt.