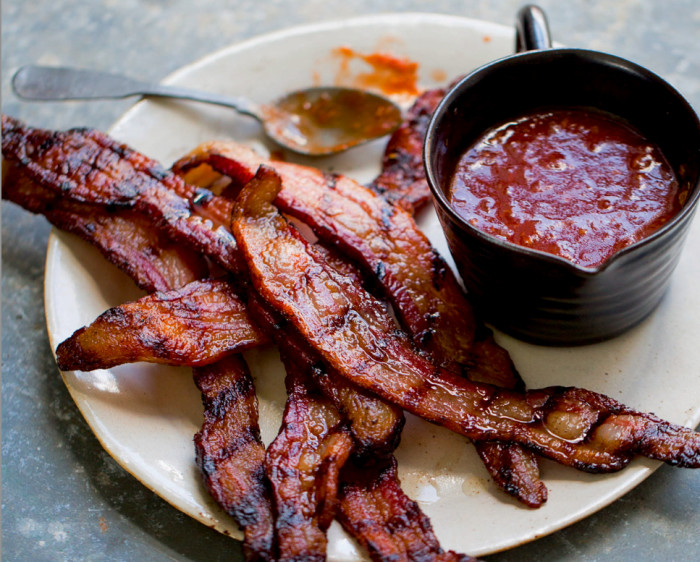 Bon Appétit's epic new grilling tome, aptly named The Grilling Book, is a volume of unbelievable barbecue recipes you simply have to see for yourself. And until you do, we're publishing a few of the standouts, grilled bacon being among them.
Yes, you can throw bacon on a grill, just like they do at the famed Peter Luger Steakhouse in Brooklyn. The key is to use slab bacon. Have your butcher cut 1/4-inch-thick slices for you, or buy a hunk and slice it yourself. Then grill till crisp and serve it with sweet horseradish sauce. We've developed our own take on that condiment here, though you could also buy the real Luger version online.
Ingredients
1

tablespoon

extra virgin olive oil, plus more for brushing

1/4

cup

minced onion

2

garlic cloves, minced

1/4

cup

packed light brown sugar

1/4

cup

red wine vinegar

2

tablespoons

worcestershire sauce

1

teaspoon

kosher salt

1

teaspoon

freshly ground black pepper

1

cup

canned tomato sauce

2

tablespoons

prepared horseradish

1

pound

1/4-inch-thick slices bacon
Directions
Heat 1 tablespoon olive oil in a small saucepan over medium-low heat. Add onion and garlic and cook, stirring occasionally, until onion is soft and translucent, about 15 minutes.
Stir in brown sugar, vinegar, Worcestershire, salt and pepper. Bring to a simmer, then stir in tomato sauce. Simmer for 1 minute; remove from heat and let cool slightly. Stir in horseradish and let cool completely. Cover and chill (can be made 2 weeks ahead).
For the bacon:
Build a medium-low fire in a charcoal grill, or heat a gas grill to medium. Brush grate with oil.
Grill bacon, turning often, until slightly rendered, crispy and charred in spots, about 6 minutes.
Serve bacon with steak sauce.
Check out some of our favorite bacon recipes on Food Republic: