Greens And Grains Scramble Recipe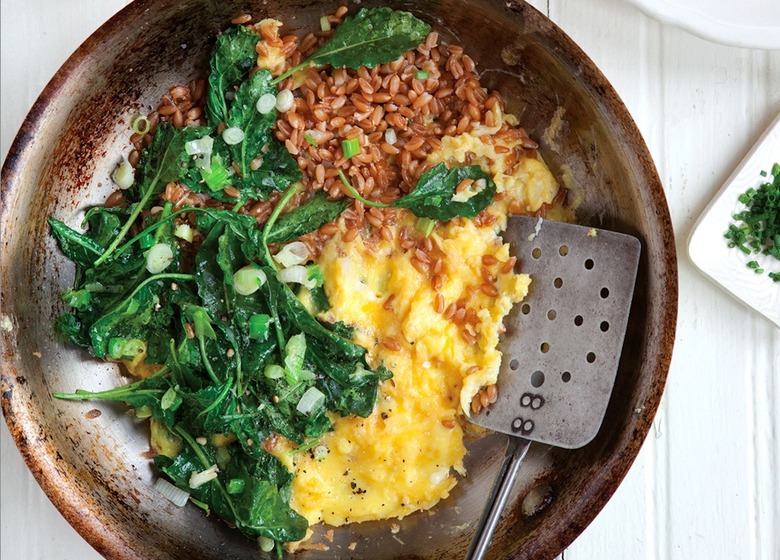 (Photo: Clare Barboza.
We may receive a commission on purchases made from links.
Writer and cookbook author Megan Gordon's new release, Whole-Grain Mornings, is all about healthy breakfast! Count us in, particularly when the scramble looks so satisfying we don't even wonder why it's not covered in or stuffed with cheese.
This is the breakfast Sam and I probably eat most often regardless of the season. In truth, it's usually a dish we whip up as a late breakfast on weekdays when we're both working from home and most emails have been returned. It's wonderfully versatile and allows you to use up any leftover grains you have from previous meals, folding in leafy greens for a bit of color. In that sense, think of it more as a template rather than a hard-and-fast approach. Any leafy greens and most grains will work, although I veer away from small, delicate grains like amaranth because they can get lost in the dish.
Greens And Grains Scramble Recipe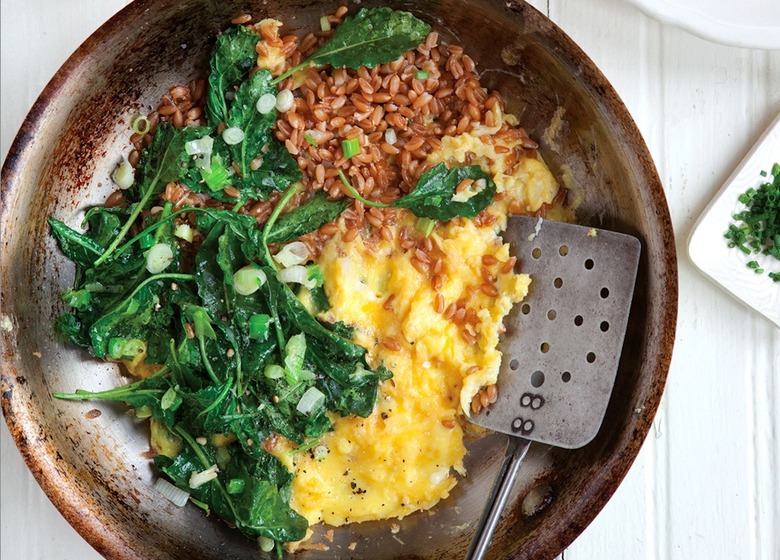 Ingredients
4 large eggs
1 tablespoon milk
1/4 teaspoon kosher salt
2 tablespoons extra virgin olive oil
1 green onion
2 cloves garlic
1 heaping cup well-packed chopped leafy greens (such as kale
1/2 cup cooked whole grains (wheat berries
1 tablespoon chopped fresh chives
freshly ground black pepper
flaky salt
crusty bread
Directions
In a large bowl, whisk together the eggs, milk and kosher salt; set aside. Heat 1 tablespoon of the olive oil in a sauté pan over medium heat. Add the green onion and garlic and sauté until soft, 1 to 2 minutes. Add the greens, grains and remaining 1 tablespoon olive oil and sauté until the greens are wilted and the grains are warmed through, 3 to 5 minutes.
Decrease the heat to low and pour in the egg mixture, gently stirring to comingle them with the greens and grains. Continue stirring until they're softly scrambled, 2 to 3 minutes. Remove from the heat, stir in the chives and season with pepper.
Serve hot with a sprinkling of flaky salt on top, and crusty bread, toasted English muffins or warm corn tortillas alongside.
Pork Chop-Stuffed French Toast Recipe
Mustard Greens, Cheddar And Farm Egg Breakfast Pizza Recipe
Spicy Beans And Pepperoni On Toast With Fried Eggs Recipe