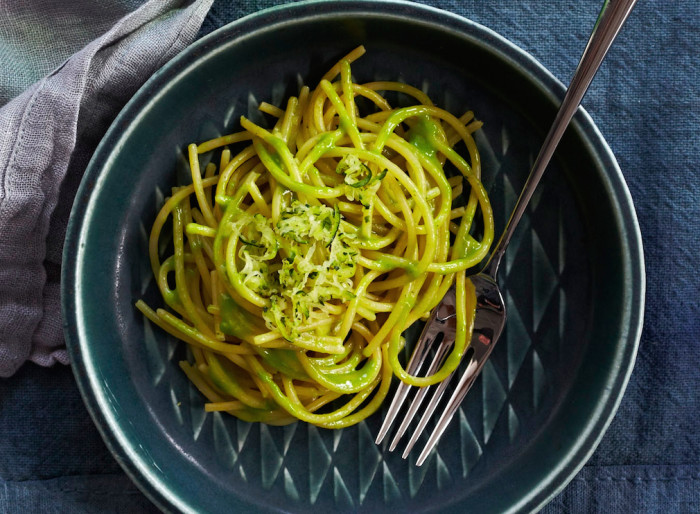 Italian food authority Francine Segan's cookbooks are must-reads for any fan of pasta, particularly her newest: Pasta Modern: New and Inspired Recipes From Italy. Abandon your red sauce craving and dive into the best, newest and certainly most inspired recipes from Italy we've seen in recent memory. This upgraded cacio e pepe dish is what's for dinner. 
Zucchini does double duty here as both sauce and veggie. After it's grated, the zucchini releases lots of lovely green juice, which is used to cook the pasta, coating it in a glossy glaze. The crisp grated pieces are then tossed with hot pasta to complete the light, rich dish. Especially delicious when made with Felicetti Monograno farro spaghetti, which imparts a naturally nutty flavor.
Ingredients
5

large

zucchini

salt

2

cloves

garlic, minced

1

pound

Felicetti Monograno spaghetti

olive oil, optional

parmesan or other aged cheese, grated, optional
Directions
Grate the zucchini with a cheese grater into a colander lined with cheesecloth that is resting in a large bowl.
Toss with salt and the garlic and let rest for 1 hour.
Squeeze out all of the liquid – you should get about 1 cup's worth of juice.
Parboil the pasta in lightly salted water, drain.
Bring 1/2 cup of the zucchini juice to a boil in the same pot you used to cook the pasta.
Toss in the pasta and cook until al dente, adding a little zucchini juice at a time so it quickly absorbs into the cooking pasta and creates a nice glaze.
Now you have a choice: you can either toss the pasta with the raw grated zucchini, or if you prefer, fry the zucchini in a skillet on high heat with 2 tablespoons of olive oil until crispy and toss that into the pasta.
Serve the pasta topped with grated cheese, if you like.
Find more spaghetti on Food Republic: