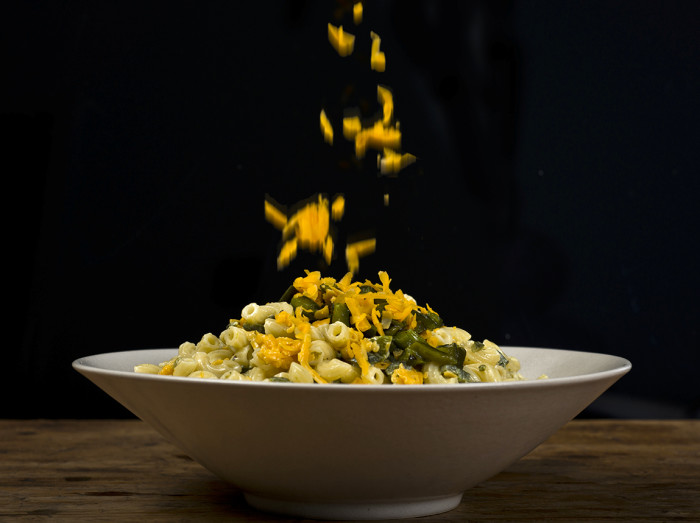 Welcome to Macaroni Salad Week! With Memorial Day just around the corner, we're searching the far corners of the earth for the perfect barbecue sides. Macaroni salad recipes are a dime a dozen (mayo, uh…mayo…) so every day this week, we're injecting new life into the same ol' same ol', with recipes perfected in the Food Republic Test Kitchen deep in the Gowanus neighborhood of Brooklyn.
First up, a macaroni salad inspired by the patty pride of New Mexico: green chile cheeseburgers. The combination of grassy, smoky poblanos and tangy cheddar strikes a decidedly non-mayo and chopped celery balance, and feels right at home next to slightly charred meat hot off the grill.
Ingredients
4

poblano chiles

1

tablespoon

olive oil

1

pound

macaroni

1/2

cup

mayonnaise

8

ounces

extra-sharp cheddar cheese, coarsely grated

1/2

teaspoon

onion powder

1

cup

red onion, finely chopped
Directions
Preheat grill to high. Meanwhile, rub the poblanos with olive oil.
Place the chiles on the grill and shut the lid. Grill until charred on all sides, about 15 minutes total.
Boil the macaroni in a large pot of salted boiling water, drain, transfer to a large bowl and toss with the mayonnaise to coat.
Remove the chiles from the grill and transfer directly to a sturdy paper bag. Twist the top shut and allow the chiles to steam for 10 minutes.
Slip the charred skins off the chiles and chop finely.
Toss macaroni with chopped chiles, cheddar cheese, onion powder and chopped red onions.
Season to taste with salt and pepper and chill until ready to serve.