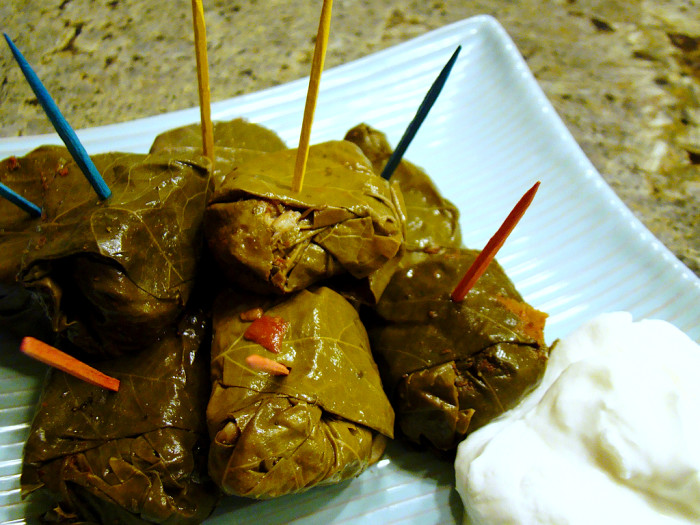 The Greek stuff grape leaves (dolmades) with everything from ground meats or poultry to minced seafood to a thick avgolemono sauce, and they serve them as appetizers, main courses and even cold picnic snacks. My Greek grandfather loved nothing more than the warm lamb dolmades, elaborate feta and cucumber salad and pita bread that my gradmother would serve at large family Sunday suppers, and while I do add beef to my stuffing for a more interesting flavor, this recipe is a good approximation of what I remember as a youngster.
Brined grape leaves are available in jars at most fine markets, and if they're too salty for your taste, simply rinse them in warm water before stuffing.
Ingredients
20

grape leaves, packed in brine

1/2

pound

ground lamb shoulder

1/2

pound

ground beef round

1/2

cup

cooked rice

1

medium onion, minced

2

tablespoons

fresh parsley leaves, minced

1/4

teaspoon

ground allspice

salt, to taste

2

tablespoons

fresh lemon juice

1/3

cup

beef broth
Directions
Separate the grape leaves. Bring a large pot of water to a boil, drop in the grape leaves, cook for 5 minutes, and drain on paper towels.

In a large bowl, combine the remaining ingredients and mix till the stuffing is thoroughly blended.

Place a grape leaf vein side up on a work surface, place about 1 tablespoon of stuffing in the center, fold up the sides, and roll tightly to enclose the stuffing. Repeat with the remaining leaves and stuffing.

Arrange the stuffed leaves in layers, seam sides down, in a large, heavy kettle and cover with an inverted plate to weight them down slightly.

Add enough warm water to reach the plate, bring to a boil, reduce the heat to low, cover, and simmer till the stuffed leaves are tender, 30 to 35 minutes.

Serve hot, warm, or cold.