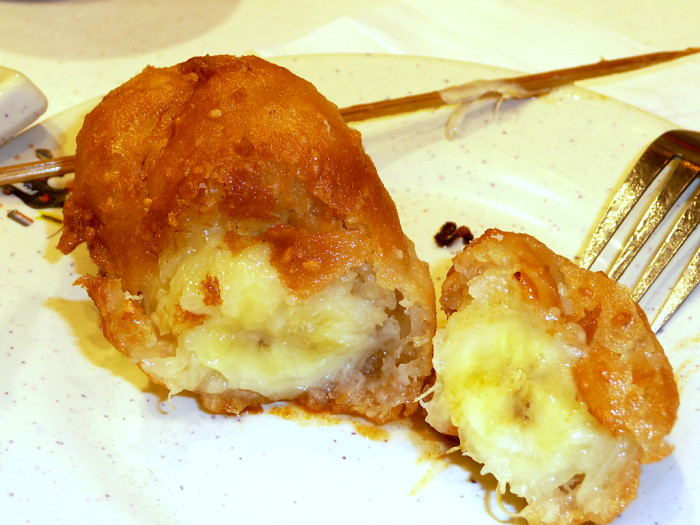 One little bite of gooey warm banana encased in crispy coating and you'll be hooked. Serve these nibbles in small dishes as a sweet finale to your meal, on top of vanilla ice cream, or alongside pound cake for a simple and delicious dessert. We like the way Grand Marnier lends a bit of orange essence to the dish, but feel free to substitute Cointreau or sweet sherry.
The 7/20: If you have these items in your arsenal, recipes categorized by 7/20 can be made with 7 or fewer additional ingredients in only 20 minutes of active cooking time.
Ingredients
1 1/2

cups

cake flour

1/2

cup

granulated sugar

2

teaspoons

salt

1 1/2

cups

whole milk

1/4

cup

Grand Marnier

1/4

teaspoon

baking soda

1

vanilla bean, split and scraped, bean pod discarded

3

cups

canola oil

4

bananas, cut 1-inch thick on the bias

confectioner's sugar, *optional for sprinkling
Directions
Combine the rice flour, sugar, salt, milk, Grand Marnier, baking soda and vanilla bean scrapings in a medium bowl. Let the batter sit at room temperature for 30 minutes.
In a deep pot heat the canola oil to 350°F.
While the oil is heating, dip the bananas into the batter to coat. When the oil is hot enough, add the bananas and fry until golden brown, about 3 minutes. Don't overcrowd the pan or you'll get a big mess. Only add as many as will float in an even single layer. Remove with a slotted spoon and transfer to paper towels to drain excess oil. Continue in batches depending on the size of your pot.
Sprinkle with confectioner's sugar if you choose and serve.