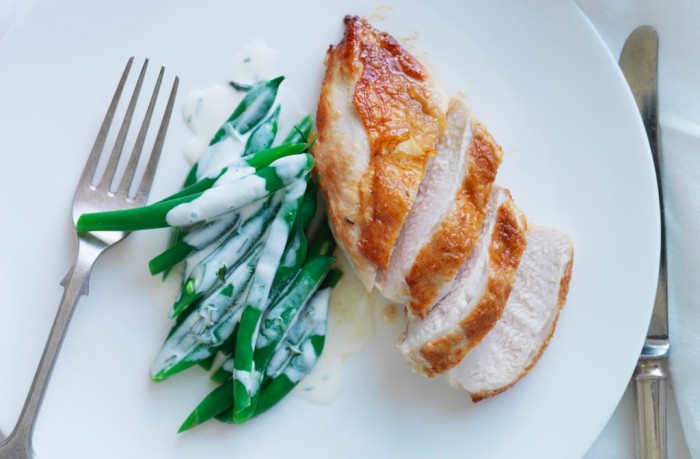 Food & Wine magazine released a cookbook in honor of the 25th anniversary of their "Best New Chef" awards (something we look forward to every year). This collection of the honorees' 100 best recipes is essentially guaranteed success in the kitchen, so acquire one ASAP and get started on Graham Elliot's incredibly juicy white meat chicken recipe.
To achieve super-juicy white meat, Elliot sears the chicken breasts with the skin on, then bastes them with a garlicky thyme butter.
Reprinted with permission from Best New Chefs All-Star Cookbook
Ingredients
10

ounces

green beans

1/4

cup

plain whole-milk Greek yogurt

1/4

cup

buttermilk

1

teaspoon

Dijon mustard

1

teaspoon

fresh lemon juice

2

tablespoons

chopped tarragon

kosher salt

1

tablespoon

olive oil

4

boneless chicken breasts with skin

freshly ground pepper

2

tablespoons

unsalted butter

2

thyme sprigs

1

garlic clove, lightly crushed
Directions
Preheat the oven to 350° F. Prepare a bowl of ice water. In a medium saucepan of salted boiling water, cook the green beans until crisp-tender, about 3 minutes. Transfer the beans to the ice bath to cool, then drain.
In a medium bowl, combine the yogurt, buttermilk, mustard, lemon juice and tarragon and mix well. Season the dressing with salt.
In a large ovenproof skillet, heat the olive oil until shimmering. Season the chicken with salt and pepper, add to the skillet skin side down and cook over moderate heat until golden and crisp, about 8 minutes. Turn the chicken skin side up and roast in the oven for 10 to 12 minutes, until cooked through and an instant-read thermometer inserted into the thickest part registers 160° F.
Add the butter, thyme and garlic to the skillet and cook over moderate heat for 2 minutes, basting the chicken constantly. Let rest for 5 minutes.
Add the green beans to the buttermilk tarragon dressing and toss to coat. Season with salt and pepper. Serve the chicken with the green beans.
Try out these chicken recipes on Food Republic: