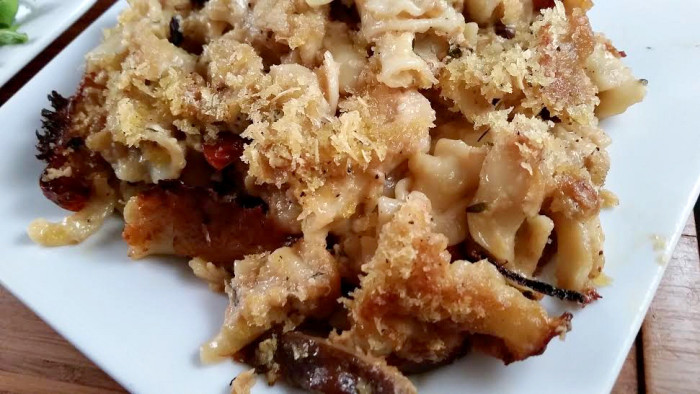 I don't normally think of macaroni and cheese and steak as being the perfect companions. Not that they're bad together, I just never thought of them as going together as a "thing." So, I thought, how can I make that a thing?
The answer was actually very simple: steak loves mushrooms, fresh herbs and blue cheese. My favorite blue is gorgonzola – it's not too ripe for people that aren't huge stinky cheese fans, but it definitely has enough flavor to satisfy a craving. This mac and cheese takes a little extra time than most, but believe me it's totally worth it. Your steak (and tastebuds) will thank you for your efforts.
Ingredients
1 1/2

pounds

dry campanelle pasta

3/4

cup

panko bread crumbs, for topping

1/4

cup

parmesan or gran padano, grated, for topping
Tomatoes
3

cups

cherry tomatoes, halved lengthwise

1/4

cup

fresh oregano

2 - 3

tablespoons

olive oil

2

tablespoons

apple cider vinegar

1/4

teaspoon

cayenne pepper

salt and pepper to taste
Mushrooms
2/3

cup

shallot, chopped

1/4

cup

fresh thyme

3

cups

portobello mushrooms, sliced

1 1/2

cups

shiitake mushrooms, sliced

1/2

cup

beer

4

tablespoons

butter

salt and pepper to taste
Cheese Sauce
12

tablespoons

butter

8

tablespoons

flour

8

cups

milk

4

teaspoons

salt

2

teaspoons

pepper

1/4

teaspoon

cayenne pepper

2

cups

Gruyere, grated (about 1/2 pound)

2

cups

fontina, grated (about 1/2 pound)

3/4

cup

parmesan or grana padano, grated

1

pound

Gorgonzola, crumbled (set aside til right before baking)
Directions
Preheat your oven to 425 degrees.
Toss the tomatoes with the oregano, apple cider vinegar, cayenne pepper and olive oil.
Lay them out on a baking sheet cut side up (otherwise they'll be impossible to get off the tray), and put the tray in the oven.
Cook for 45 minutes and then set aside to cool, while keeping your oven on for the mac and cheese.
For the pasta, follow the instructions on the package, but subtract a couple minutes from the listed time. You want the pasta to still be a bit crunchy, as it's going to cook more in the oven later. Strain and set aside.
For the mushrooms, add the butter, mushrooms, thyme and shallots to a skillet over medium high heat. Cook until everything starts to brown and caramelize a bit (be careful not to burn too dark; a little burnt is fine though).
Add the beer, turn the heat down to medium, cover and cook for about 10-12 minutes.
Uncover the skillet and cook until all liquid is gone, about 20-30 minutes. Remove from heat and set aside.
Now it's time for the sauce: be ready, you might have to do a couple of things at the same time here. Heat up another skillet on medium low heat, and add the butter.
Once the butter is melted, add the flour and whisk until smooth (it helps to sift the flour before hand).
Once the flour is fully incorporated, turn the heat up to medium and cook for another 6 or 7 minutes. The goal here is to get a nice golden color–not quite brown, but toasted up a bit.
Meanwhile, heat the milk in a separate pot (put the milk in the pot before you turn the heat on) over medium high until it looks like it's about to boil, then turn it to low.
Use a ladle to scoop the milk into your butter and flour base while stirring and whisking constantly over low heat.
Once all the milk is added and incorporated, increase the flame and wait for it to boil, then cook for about 12 minutes (and don't stop stirring!).
Turn off the heat and immediately add your grated cheese (but not the gorgonzola), salt, pepper and cayenne pepper and mix together.
In a large mixing bowl, mix the mushroom mixture, tomato mixture, pasta, cheese sauce and gorgonzola together.
Scoop into a buttered 9x13 baking dish and top with the grated parm and bread crumbs.
Bake uncovered for about 45 minutes, or until the top is golden brown. You can also make these in individual sized dishes (as long as they're oven-safe).
Find more delectable mac and cheese recipes on Food Republic: